Women in Percussion Theme Rocks the Big Apple at NYU/KoSA/Hit Like a Girl Event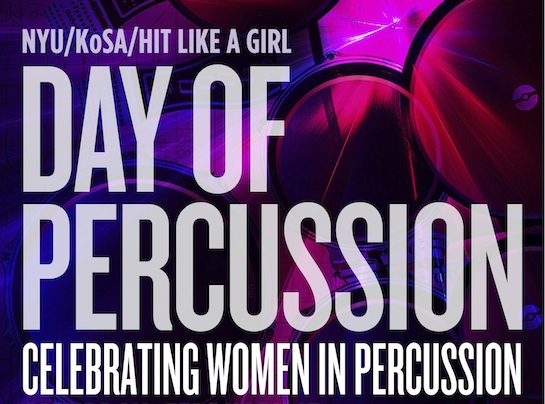 The NYU Steinhardt Percussion Studies Program (Jonathan Haas, director) hosted its first-ever collaboration with KoSA (Aldo Mazza, director) and Hit Like a Girl (David Levine, director) on February 13. This year's event, Celebrating Women in Percussion, included a variety of clinics and master classes with artists from around the world, concluding with a showcase performance on Saturday evening.
Lindsay Artkop from Berklee College, winner of the 2015–2016 Hit Like a Girl competition, began the day showcasing her skills on drumset. Following her was Grammy winner Terri Lyne Carrington, who spoke about her cymbal preferences and musical journey as a drummer. Reynaliz Herrera and her group from Boston, MA performed an original theater and percussion piece.
The fourth session of the day featured Valerie Naranjo, percussionist for Saturday Night Live, Broadway's The Lion King, and NYU Steinhardt faculty member. Special guests Barry Olsen and the NYU African Gyil and Percussion Ensemble joined Ms. Naranjo for a performance featuring the music of West Africa. Cherisse Osei, most recently known for her work with Bryan Ferry and Mika, discussed technique and practice routines. Advertisement
The clinic portion of the day finished with a presentation by Julie Spencer and Aldo Mazza. Their friendship, knowledge, experience, and musical skills shined together on stage as they discussed and demonstrated the art of improvisation. Their session concluded with a performance by the all-woman Batala New York City Samba and Reggae Group.
The final event of the day was the showcase concert, bringing together artists from around the world. Julie Spencer and Aldo Mazza performed Ms. Spencer's work for drumset, marimba, and speech, "Everybody Talks about Freedom." Katy Clinch and the Juilliard Pre-College Percussion Ensemble performed Nigel Westlake's masterpiece, "Omphalo Centric Lecture." NYU's Palladium Percussion quartet performed Steve Reich's "Mallet Quartet" and an original work entitled "At Least It's Raining," composed by ensemble member Luis Jácome. The concert concluded with a performance by the School of Rock All Girl All Star Band.
A special thanks has been extended to all the individuals who made this event possible, including Jonathan Haas, Aldo Mazza, David Levine, event co-directors Rose Egan and Luz Carime Santa-Coloma, NYU Steinhardt, and the Frederick Loewe Theatre staff and crew. Sponsors who laid the foundation for the event include Tama, Zildjian, KoSA Music, Mapex, Ludwig, Vic Firth, Mike Balter, Sabian, NYU, Hit Like a Girl, School of Rock, LP, Evans, Promark, Norsk Musik, Gibraltar, DW, and Remo. Advertisement