On the Beat With Elton John Percussionist John Mahon: Recording Wonderful Crazy Night
Hi MD! I've been meaning to send you a little blurb about Elton John's latest record and what we've been doing. The album Wonderful Crazy Night was released February 2016 and we have been playing promotional concerts starting in Los Angeles, then over to London and Paris.
We hit TV shows Ellen, Jimmy Kimmel, Disney's Sixtieth Anniversary Show, Graham Norton Show, The Talk with Sharon Osborne, as well as a pop-up free concert at Tower Records on Sunset Strip streamed live on AOL and radio streams on KCRW, KOST, and BBC Radio London. We are still playing the Million Dollar Piano show in Las Vegas, as well as touring the USA in the spring and Europe this summer.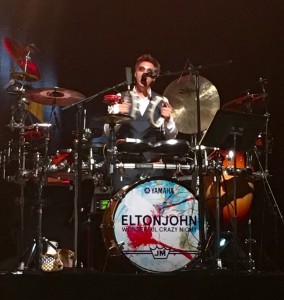 Wonderful Crazy Night, Elton's thirty-second studio album, is the first time since the 2006 album Captain and the Kid that Elton used his touring band to record with. The touring band now consists of Davey Johnstone (guitars), Nigel Olsson (drums), Kim Bullard (keys), Matt Bissonette (bass), and myself on percussion and vocals. Elton even brought back world-renowned percussionist Ray Cooper to record on this album. The recording was produced by T-Bone Burnett and recorded at the Village in Los Angeles by engineer Jason Wormer. The lyrics were written once again by the incredible and long-standing partner of Elton, Bernie Taupin. Advertisement
Elton mentioned a few times that he wanted to keep this record up tempo and fun and we set out to do that. Elton likes to write songs quickly and pretty much wrote and recorded a song almost every day that we were in the studio together.
Elton started at the piano first thing around noon and comprised the song structure and melody using Bernie's lyrics. The tape was always running, and I do mean tape, as we recorded to twenty-four track and Pro Tools simultaneously. He sometimes wanted to bounce ideas off of us, so we were always nearby listening as he wrote and made notes. Davey helped him with chord structure and Matt charted the song as Elton wrote. In case Elton asked, "What chord did I play last time"? Matt could refresh his memory without having to roll the tape back.
Every song was constructed differently. Sometimes we would record all together as a live rhythm section, never with a click track, and other times he would ask me to play a cajon beat, very simple but working the feel to what he played on the piano. I started the groove of one song by playing an old messy sounding kit consisting of a 26″ antique bass drum, old Ludwig marching snare, and some various blocks and metal bits to make rattle and boom. Or, once it was just a brush snare kick groove. These little light grooves mainly set up the feel of some of the songs and I would play them all the way through to have as basic beat. Sometimes the parts stayed in the final mix and other times they didn't. Advertisement
Once or twice we looped a cajon beat but Elton loves to just record in real time without relying on a machine. The few ballads on the record had Nigel creating the drum groove from the top. If the tune wasn't recorded together, then Nigel would come in with full kit later as an overdub following the piano and hopefully my percussion groove. Once we got a basic rhythm track and Elton was happy with the piano part he would go in and record his lead vocal. From there a good couple hours were spent creating and recording guitars, then a few passes at bass guitar were followed by keyboard parts. T-Bone played some cool moody guitar parts as well.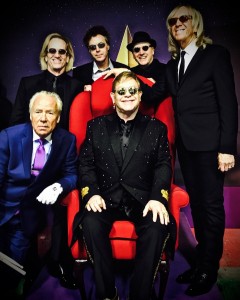 Elton is very spontaneous and if he heard something in his head he wanted to record it right away, like a background vocal or keyboard part. As you can imagine, these sessions were comprised of a room full of musicians who have played on, written, or produced quite a few records, to say the least, so the creative juices were flowing like Niagara Falls. There was really no, "Hey man, I'll work on this tonight and maybe I can have a part by tomorrow." It was always moving so you needed to be constantly thinking about the composition as it grew because when Elton popped his head up and said I want to do percussion now—he meant right now.
Most of the layering parts like shakers and tambourines were done in one or two takes but we did spend a little extra time on the odd sounding parts like Yamaha DTX, Wavedrum, and drums like my vintage Ludwig 23″ timpani or LP congas. The percussion parts were normally done later in the day and sometimes Elton would take off so I could experiment here and there with colors or add cymbal swells to build transitions. Ray Cooper came to the sessions a little later and played his beautiful tambourine parts on about five songs. Advertisement
Our background vocal parts were mostly done the following day but there were times when Elton had ideas so we would go for it as quickly as possible. T-Bone Burnett was so great because he was always a champion for something unusual, whether it was handclaps or crazy melodic parts or, better yet, nothing! Every day that Elton wrote a new song, it was a different scenario for recording. It was never exactly a set plan or structure for the tracking order like some records and that kept it spontaneous.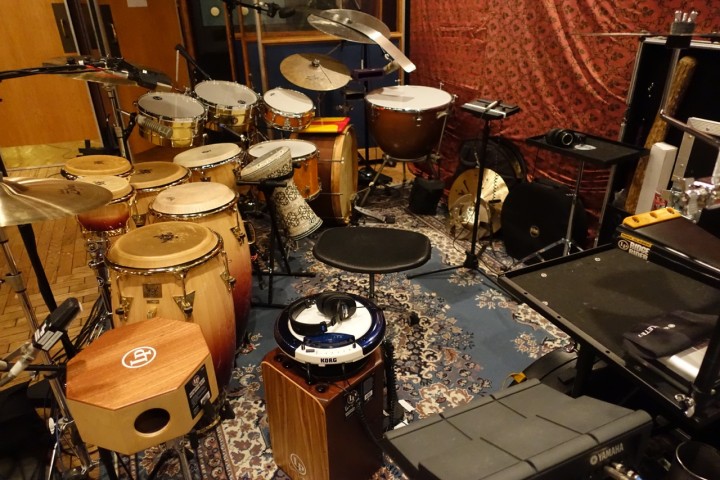 We are all very excited about this new record because we had a great time in the studio making live music. Elton is the most passionate music fan I think I have ever met and it's quite inspiring to be around him when his creative powers are in full flow. It's truly amazing to be part of this legendary musician's career even after all these years of being in his band. Thanks for reading!