On the Beat With Dave Krusen of Candlebox: Talks Recording and Touring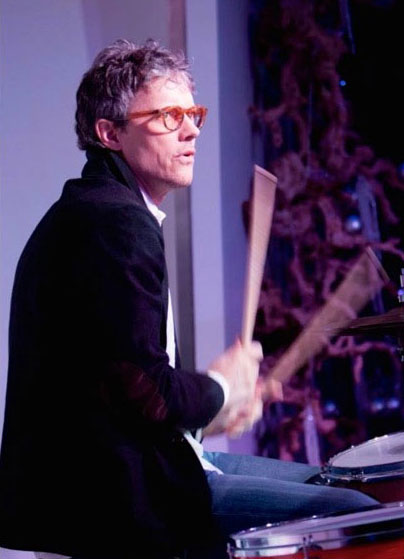 Hello, I'm Dave Krusen, drummer for Candlebox. I'm originally from the Seattle area and I've been playing drums for a living since the mid-eighties. I was the original Pearl Jam drummer and recorded Pearl Jam's debut studio album Ten before heading out to get my life together. Since then I have played with many talented artists in the studio and live.
Candlebox just finished a new record and I'm very stoked. It's called Disappearing In Airports and will be officially released on April 22, 2016. I have recorded with Candlebox since I was the drummer in '97, tracking Happy Pills, Into the Sun, and Love Stories and Other Musings. We recorded the new album in York, PA, at Think Loud studio, which is owned by the band Live. Carson Slovak produced and engineered it.
The first single, "Vexacious," just came out and is getting some awesome feedback. I used one of Chad Gracey's old Pearl kits (with Remo Coated Ambassadors) on the record and I really dug it because it was mahogany and that low tone and shorter sustain always sound best to me in the studio. We used a few different snares, a Tama bell brass, an old Rogers wood, and a stave snare that blew my mind, which was a Greiner & Kilmer 14″ honey walnut. And if you get a chance to play one, Jack Mayer makes killer drums: http://www.mbdrums.com. Advertisement
I'm also recording and touring with Pete RG. We will be opening for Candlebox at least through the spring. I have played in the opener and headliner before so I think it'll be a fun tour and not too much to deal with. I just finished another recording with Pete RG that comes out soon and sounds great. For that recording I used a Gretsch 16×22 USA custom kick (with Remo PS3 coated), a DW 6.5×14 black nickel over brass (Remo Coated Ambassador) with it tuned so low the tension rods were rattling—but it sounded so good. I used Yamaha Club custom toms, which record great in my opinion—they have a very warm tone. The cymbals I usually use are Paiste traditional—two 16″ crashes for hi-hats, 18″ crash, 20″ ride and 20″ China.
For the up-coming tour I'm using my black DW kit from 1993. It consists of 16×22, 9×12, 12×14, and 14×16, with pinstripe Remo heads on the toms and clear Powerstroke 3 on the kick, a few brass snares, a few wood snares, and an aluminum Acrolite, too, which will all have Remo coated Emperors. I'm using Paiste 2002 medium 14″ hi-hats, a 20″ ride, 18″ China, and signature 18″ and 19″ crashes. I use Vater sticks, mostly 5B wood, also SD9s, and occasionally Lil John Roberts or Session wood tips, depending on the song, as well as Vater brushes and mallets.
The Candlebox tour starts at the end of March 2016, after our shows in South America, which includes Lollapalooza Chile. I hope to see some of you on the road.
For more on Dave Krusen, Candlebox, and Pete RG, please visit www.davekrusen.com, www.candleboxrocks.com, and www.pete-rg.com.
To hear the first single "Vexatious" (official lyric video), visit https://youtu.be/9I3enYndcyc or watch below.