On the Beat With Nick Cesarz of Vinyl Theatre: Talks Tour Challenges and Debut Album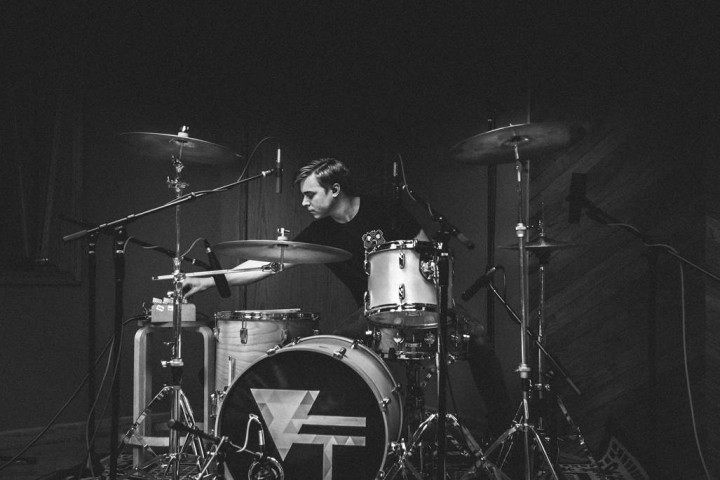 Hey, MD readers! My name is Nick Cesarz and I play drums in Vinyl Theatre. We're an alternative rock group based out of Milwaukee, Wisconsin.
I started playing drums when I was nine years old, taking lessons through high school and into my college years where I studied percussion formally. Some of my heaviest influences include Simon Phillips, Steve Gadd, Neil Peart, Stewart Copeland, Jason McGerr, and Bernard Purdie.
My live setup includes a mixture of acoustic and electronic drums. For certain keyboard samples and electronic drum samples, I use a Roland SPD-SX along with an additional pad on my left and a foot trigger. I'm a big fan of finding different sounds to use, so in addition to using the stock sounds, I've sampled different drumkits including sounds from the Simmons SDS-V and Clap Trap.
Touring has presented a lot of challenges for us. On the Twenty One Pilots tour last fall, we were fortunate to play on a lot of big stages. Three kits on stage every night was no problem. On our current tour though, I am sharing kits with another band, which has challenges that I'm sure many of you are familiar with. Advertisement
Some of the drives with a van and trailer can be tricky. Fortunately, everyone volunteers to drive in our group—I can't imagine being the only one driving. We had a crazy trip from Vancouver, BC to Dallas, TX that had to be done in three days on that same Twenty One Pilots tour. It was the toughest forty-eight hours of the tour to endure.
Since signing with Fueled By Ramen, we put out our debut album, Electrogram. We're currently about to kick off a co-headline tour with Finish Ticket. (See dates below.) I hope you heard our first single, "Breaking Up My Bones," on the radio by the time you read this! It hit #2 on ALT 18 and Electrogram charted at #1 on Billboard's "Next Big Sound."
Thanks for reading! You can follow or reach me at @nickcesarz on Twitter and find the band at @vinyltheatre.
Watch the video Vinyl Theatre: Behind the Band with Nick Cesarz here:


For more, visit www.vinyltheatre.com/#tour.
Finish Ticket and Vinyl Theatre Tour Dates
* Denotes Live Nation "Ones To Watch" official dates
February
17 – Saint Petersburg, FL – The Local 662
18 – Orlando, FL – The Social
19 – Atlanta, GA – Terminal West
21 – Nashville, TN – 3rd & Lindsley
23 – Washington, DC – U Street Music Hall
24 – Philadelphia, PA – Foundry*
25 – New York, NY – Gramercy Theatre*
27 – Boston, MA – Brighton Music Hall*
28 – Cleveland, OH – Cambridge Room* Advertisement
March
1 – Columbus, OH – A/R Music
2 – Indianapolis, IN – Deluxe*
3 – Detroit, MI – Shelter*
4 – Chicago, IL – Bottom Lounge*
5 – Milwaukee, WI – The Rave Bar
6 – Minneapolis, MN – Triple Rock*
8 – St. Louis, MO – Old Rock House
9 – Kansas City, MO – Tank Room
11 – Denver, CO – Bluebird
12 – Salt Lake City, UT – Kilby Court
15 – Seattle, WA – Crocodile Café
16 – Portland, OR – Lola's Room
19 – Los Angeles, CA – Troubadour
21 – San Diego, CA – House of Blues*
22 – Phoenix, AZ – Valley Bar
24 – Dallas, TX – Cambridge*
25 – Austin, TX – Parish*
26 – Houston, TX – Bronze Peacock*