News: Rick Allen of Def Leppard Fame to Exhibit Latest Collection of Artwork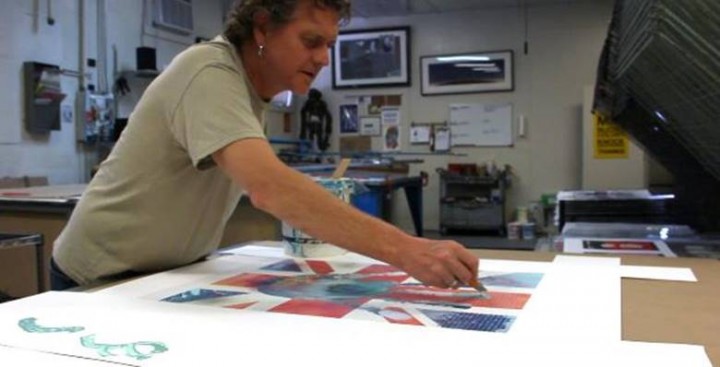 Wentworth Gallery is honored to present Rick Allen's works from his latest collection, "Rick Allen: Angels and Icons." Rick's art is currently being showcased exclusively in Wentworth Gallery locations throughout the country, including metro DC, South Florida, Atlanta, Philadelphia, and New Jersey. The collection houses originals, limited editions, mixed media originals, and sculptures.
A portion of the proceeds from each and every sale during this event will be donated to Project Resiliency's Warrior Resiliency Program, sponsored by Allen's charity foundation, the Raven Drum Foundation, and each purchaser will receive a limited edition hand-signed Commemorative Purple Heart piece.
Also premiering at this presentation is Rick Allen's Art to Wear Collection. Truly wearable art, each piece is custom crafted and individually numbered and signed as part of a limited edition of only ninety-nine. Advertisement
"We are honored to present this extraordinary collection in our galleries throughout the country, and to continue our efforts and our tradition of giving back to the men and women who serve our nation so selflessly. Our goal is to bring exposure to Project Resiliency through artistry," says Christian O'Mahony, principal Wentworth Gallery.
"Music, art and photography have been passions of mine since I was a boy and now I am bringing these artistic expressions to life with paint and canvas," says Allen. "My life has been a journey of transformation and my art is a reflection of the many facets of dreams and perceptions that have shaped me to be the person I am today. Each piece has a story and a connection to my life from my roots in England, my life changing car accident, journey to America, travels around the globe, and to my deep connection to Wounded Warriors and their struggle to heal." Advertisement
Rick Allen will make a special artist appearance at Wentworth Gallery at the Mall at Short Hills on Saturday, February 20, 2016 from 5 pm to 8 pm, 1200 Morris Turnpike, Short Hills, NJ. Admission for all registered guests is complimentary and RSVPs are strongly suggested.
For more information about this event, contact the gallery via email at shorthills@wentworthgallery.com or to reach the gallery directly and to RSVP, call 973-564-9776.