Bobby Rondinelli
by Robert Girouard
With a résumé that includes Blue Öyster Cult, Rainbow, Quiet Riot, Black Sabbath, and more recently, Mountain guitarist Leslie West and the Axel Rudi Pell Band, Bobby Rondinelli remains a mega-force in heavy-rock drumming.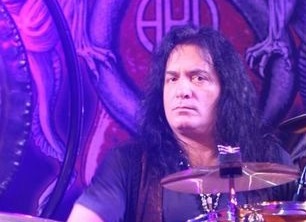 Bobby just wrapped-up the seventh Lizards CD, Reptilicus Maximus, which features guest appearances from Glenn Hughes, Frank Marino of Mahogany Rush, and UFO's Vinnie Moore. Familiar Rondinelli traits—speed, clean execution, a crisp snare and thunderous bass drum—are in abundance throughout Reptilicus Maximus, the net result being one of the most appealing heavy-rock drumming albums to come out recently. The only complaint you might have is, what Buddy Rich did for nascent jazzers, Rondinelli does for aspiring hard-rockers—make it sound and look so darned effortless. (For a fun video of Bobby doing his thing, check out his solo at the Ludwig booth during the 2013 NAMM show.)
Players of Rondinelli's caliber don't grow on trees. Though, as the academically minded drummer might say—he's the author of the classic Modern Drummer method book The Encyclopedia of Double Bass Drumming—there's not much that can't be attained when you commit to practice, practice, and more practice.
MD: What's been occupying your time as of late?
Bobby: I've been playing with a German guitarist, Axel Rudi Pell, and also here in the States with Leslie West.
MD: How did your gig with the Axel Rudi Pell Band come to be?
Bobby: I got the gig because a good friend of Axel's named Horst knew me via Richie Blackmore's Rainbow. Thankfully, Axel was a huge Rainbow fan, and he called me.
MD: Last year you recorded the album Into the Storm and toured with the band. Was that exclusively in Europe?
Bobby: It was all in Europe. I also recently recorded the band's new album, Game of Sins.
MD: European audiences seem to be more enthusiastic than ever about hard rock—is that true?
Bobby: To a point. Europe is still very…well, at one time Germany was probably the second- or third-biggest rock market in the world. It's still good, but I'm not sure it's as big as it used to be.
MD: Do you like playing there as much as in the U.S.?
Bobby: Yes, but to be honest with you, I like playing anywhere that people will be receptive, you know? I just love to play, period.
MD: Are you still doing a lot of drum clinics in Europe?
Bobby: No, but it might be time to start up again.
MD: How much time do you spend teaching nowadays?
Bobby: Quite a bit. When I'm home, I teach, usually a minimum of three days a week. It keeps sticks in my hands, plus I have some good students, which keeps me on my toes and forces me to stay current.
MD: The Encyclopedia of Double Bass Drumming, which you wrote [with co-author Michael Lauren] in 2000, is still very popular. Have you thought about doing a follow-up?
Bobby: I have. I wrote another 350 exercises, and I just have to get together with Modern Drummer, which I've been trying to do for about a year and a half, but something always seems to come up on my end. At this point it'll probably just be an addition to the book.
MD: Do you mind if people make stylistic comparisons between you and John Bonham and Ian Paice, and in terms of your hand speed and dexterity, Buddy Rich?
Bobby: If you're going to compare me to those guys, you can do it all day long! [laughs]
MD: Can you talk about your early influences?
Bobby: The guys I loved were Carmine Appice, Ginger Baker, Buddy Rich, and Dino Danelli, who is probably the most underrated drummer ever. I mean, to be that cool in R&B and pop music? He was a star among stars, one of the best ever. I still go on YouTube and watch some of that old Ed Sullivan Show footage. It still stands up today, and I show clips of people like Dino, Carmine, and Ginger to my students all the time, because I think it's important they know where it all came from.
MD: Let's talk about the new Lizards CD, Reptilicus Maximus. Both your drumming performance and the drum sound on the album are the best I've heard from you yet.
Bobby: It was done all live, except for an occasional fill I redid. To their credit, nobody ever said I had to hold back.
MD: Will there be a tour to promote the album?
Bobby: I honestly don't know if we're going to tour behind it.
MD: Did you use anything special gear-wise?
Bobby: I used and endorse Ludwig drums. I believe it was a silver-sparkle Classic Maple or Legacy kit—10×14, 16×16, and 16×18 toms, 14×26 bass drum, and I have a ton of snares, including a newer Black Beauty 6.5×14, a '60s chrome over brass, and a '70s 6.5″ blue/olive-badge Supraphonic. I love Ludwig, and I still buy vintage ones. I can't stop buying their snares—I have over fifty!
I have to give a shout-out to German-based Fentex Percussion, Ludwig's European distributor. For the tour they loaned me an Amber Vistalite Bonham replica kit, which was very cool. But for the most recent Axel Rudi Pell recording, they sent what has to be the ugliest-looking kit that I've ever used in the studio. [laughs] I requested specific sizes, but they didn't have them. Instead, they sent me a black oyster pearl kick drum, a white tenor tom, and gold sparkle floor-toms—but they really sounded great!
MD: Do you like the trend toward online study, or do you prefer a one-on-one when you're teaching?
Bobby: I think one-on-one is the best, but you can get a lot of stuff online as well. I see a lot of kids coming up and getting a lot of chops real quick via videos, as opposed to when I come up. We had to try to remember a fill or phrase [we saw a drummer play live], or try to pick it up off a recording.
MD: What are you currently using for study materials?
Bobby: I tend go back to the proven winners: Stick Control, the Breeze-Easy books [John Kinyon], Mini-Monster [by Joel Rothman] for beats, and my book for double bass.
MD: What's coming up in 2016?
Bobby: I'm going back to Europe to support the new Axel Rudi Pell album. I also have some Leslie West shows stateside.
Photo by Olly Uhl. For more on Bobby Rondinelli, go to facebook.com.