On the Beat With Damon Wilson of the Temperance Movement: Opening For the Rolling Stones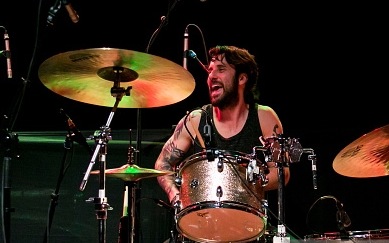 Hi MD! For the past months we've played shows in all sorts of places across America. Large theatres. Small clubs. Sports bars. Board rooms. Radio stations. You name it, we've played it. But nothing beats Friday June 12, 2015 in Orlando, FL opening for the biggest rock 'n' roll band in the world, the Rolling Stones, at the Citrus Bowl Stadium with a sold-out, 70,000 people show.
Let me tell you about it! We started the day with an interview and performance at WJRR-FM Orlando. Fox News was there, too; Orlando was swept up with Rolling Stones fever. We played two songs and I played hand percussion and a display bass drum that was hanging on the wall. What else do you do when you're on the radio and TV at the same time?
Next, we made our way to sound check. And, the stadium is huge—no, it's bigger than huge; this must be what it feels like to be an ant. I made my way to the stage to survey the Gretsch loaner kit. I took some time to tune it and make it my own. First, I found the place where the floor tom sounded good, then I tuned the 12″ rack tom so it's a fourth above. Next, I slapped plenty of gaffer tape on them to give them that nice, dead '70s Levon Helm sound. The Gretsch USA Custom 6.5×14 snare sounded cool straight up, but I wanted to deaden it so it got the same gaffer tape treatment as the toms. Advertisement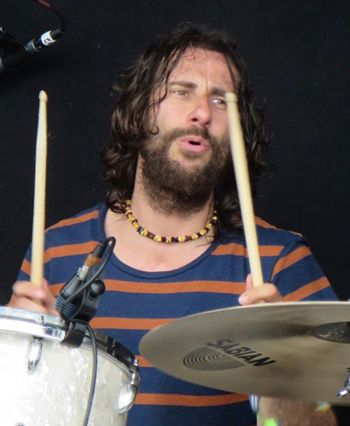 After the sound check we were invited to drop in to say hi to the Stones. I've met Charlie Watts briefly before and, just like the last time, he's a true gentleman. We talked vintage drums, like Ludwig versus Gretsch, I asked him questions about the recording of Exile On Main Street and he told me about Olympic Studios and the basement in Nellcote. It was like digging for gold in a rock 'n' roll mine. I wanted to keep asking him questions, but it was time for us to play.
We made our way to the stage and on the way I somehow remembered to breathe deeply and count the tempo of the first song in my head. I don't believe in doing warm-ups, just a bit of yoga and a calm recap of the set list. I tried to remind myself about being dynamic and bringing light and shade. Most of all, I thought about making our music as soulful as possible.
The show came and went in a flash. The crowd felt like a huge wave about to break on us. I ran off stage, people I've never seen before slapped me on the back, and someone asked me for directions to the bathroom. I was stopped by security, and since I didn't have the correct pass, I was locked out of our dressing room in a hallway somewhere in a stadium where we had just opened for the Rolling Stones. I'll never forget it! Advertisement
Thanks for letting me share my experience.
Check out the band's first single, "Take It Back," here.
For more on the band, visit www.thetemperancemovement.com.