Roland Sponsors Guitar Center's 27th Annual Drum-Off Search for the Nation's Best Drummers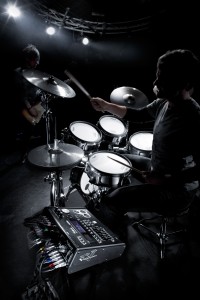 Roland Corporation is a proud sponsor of Guitar Center's 27th Annual Drum-Off search for the next great drummer. Free and open to drummers across the country, entrants will compete for a chance to win a grand-prize package valued at over $45,000 that includes cash, gear, endorsement deals, studio time, and a GC Buyer's Guide feature.
This year's gear prizing features products from a variety of manufacturers, including a Roland TD-30KV V-Drums electronic drumkit, valued at $8,999, and a Roland SPD-SX Sampling Pad. Contestants will have a chance to play some of Roland's percussion products during the in-store preliminaries including the Octapad SPD-30 and BT-1 Bar Trigger Pad.
"We're always amazed and excited to witness the talent that comes out of each year's Drum-Off competition," notes Drew Armentrout, Roland Corporation US Product and Artist Relations Manager, Drums and Percussion. "We are proud to be a part of the competition and the drumming community and we sincerely wish all the entrants the best of luck." Advertisement
Drum-Off begins with store preliminary competitions at 251 Guitar Center locations. Contestants will be judged on a three-minute performance, and one winner from each store finals competition will be chosen to move up to the quarterfinals, followed by semifinals at five store locations. Five winners chosen at the semifinals will then convene at Club Nokia in Los Angeles, CA to compete in the finals for the grand prize on January 16, 2016 in front of a live audience and a panel of judges.
For more information, important competition dates, and to enter Guitar Center's Drum-Off competition, visit guitarcenter.com/drumoff.