September 2015 Issue of <em>Modern Drummer</em> featuring Gil Sharone
(Available in print August 4, 2015; digitally July 30, 2015)
On the Cover
Marilyn Manson's Gil Sharone
"I like being in situations where I'll be super-distracted but I won't get thrown off. If to get lost, all they'd have to do is look at me and they'd know exactly where they are."
After conquering the intricacies of Dillinger Escape Plan and the soulful subtleties of Jamaican music, this wicked beatmaker has accepted the challenge of crushing the heaviest fire-breathing rhythms of modern rock—no matter how wild it gets out there. By Adam Budofsky.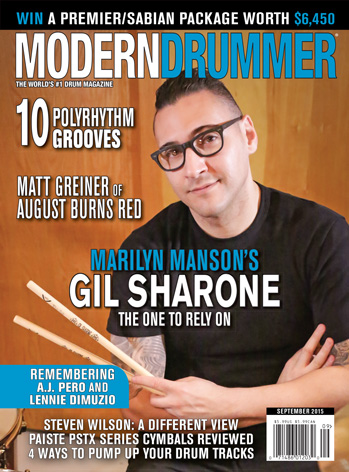 FEATURES
Catching Up With… the Verbs' Steve Jordan /// Alice in Chains' Sean Kinney
August Burns Red's Matt Greiner
Flying high in faraway places. – by David Ciauro
Circa Survive's Steve Clifford
Playing exactly what he wants to be playing. – by Ilya Stemkovsky
District 97's Jonathan Schang
Dancing on a prog volcano. – by Will Romano
A Different View: Steven Wilson
Rid of the grid with Porcupine Tree and more. by Will Romano
EDUCATION
Basics – Build a Beat! Step-by-Step Approach to Creating Interesting Grooves – by Rich Redmond (click here for supplemental video content)
Rock 'n' Jazz Clinic – Grooving in Form Part 2: AABC – by Mike Johnston (click here for supplemental video content)
Strictly Technique – Practical Single Strokes Exercises for Rolling in Time – by Jeff W. Johnson
Jazz Drummer's Workshop – Swing Style 101 Part 1: Avoiding the 1 – by Justin Varnes
Around the World – The Cumbia Drumset Adaptations of a Traditional Colombian/Panamanian Rhythm – by Steve Rucker and Carlomagno Araya
Rock Perspectives – Progressive Drumming Essentials Part 3: Polyrhythmic Patterns – by Aaron Edgar (click here for supplemental video content)
Off the Record Mr. Big's Pat Torpey Breaking Down the Quasi-Linear Beat to "Take Cover" – by Matt Starr
EQUIPMENT
Product Close-Up
• RBH Drums Americana Jump Kit (click here for supplemental video content)
• Paiste PSTX Series Cymbals (click here for supplemental video content)
• Craviotto Johnny C. Series Snare Drums (click here for supplemental video content) Advertisement
Electronic Review – Creative Compression Techniques 4 Ways to Pump Up the Excitement in
Your Drum Tracks (click here for supplemental audio content)
Gearing Up Ariana Grande's Keith "Stix" McJimson
New and Notable
Collector's Corn Stone Custom Drums
DEPARTMENTS
AN EDITOR'S OVERVIEW
The One-Off Conundrum by Michael Parillo
Readers' Platform
News
It's QuestionableMind Matters: Is the Money Worth the Abuse? • Is This a Leedy?
Showcase Featuring Drum Market
Critique
Backbeats
A.J. Pero • Lennie DiMuzio
Kit of the Month Big Rascals
and more!