News: The Drawing Center in NYC Presents "Drawing Sound: Billy Martin???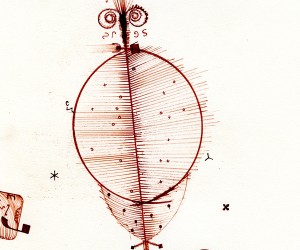 For its 2015–16 season, the Drawing Center in New York City has developed two multi-evening events for its newly renovated galleries that demonstrate the institution's increased focus on the intersections between drawing, sound, and performance-based art.
Interspersed between major exhibitions, Drawing Sound will bring commissions of new work to The Drawing Center's space and will build upon the institution's recent explorations of drawing and music in the work of Iannis Xenakis and William Engelen. Billy Martin and String Noise (Conrad Harris and Pauline Kim) will curate the two Drawing Sound performances in July and September of 2015, respectively.
The event is co-produced by executive director, Brett Littman, and curatorial assistant, Jessica Man.
Part 1: Billy Martin
For the Wandering performance series in July of 2015, Martin has invited world-renowned musicians to interpret and perform his graphic scores and automatic drawings. Set lists for each night are subject to change. Advertisement
July 8, 7:30 pm
Soloists Chris Cochrane (guitar), Billy Martin (percussion), John Medeski (keyboard synthesizer), Ikue Mori (electronics), and Ned Rothenberg (clarinets, saxophone, shakuhachi) will interpret Billy Martin's graphic scores.
The Alarm Will Sound (vibraphone, marimba, clarinet, trombone, viola, gongs) with guests Chris Cochrane, John Medeski, and Ned Rothenberg will perform Coral Sea, Heart Strings, The Animated Veve, and Chaman.
Go here to buy tickets.
Soloists Cyro Baptista (percussion, voice) and Anthony Coleman (keyboards) interpret Billy Martin's graphic scores. Yoshiko Chuma (dancer) and Billy Martin (percussion) perform Pas de deux and ensemble Fang Percussion will perform Stridulations for the Good Luck Feast (for temple blocks and bamboo) and Drawing Sound (gongs, water phone and other metallics). Advertisement
Go here to buy tickets.
July 10, 7:30 pm
Soloists Annie Gosfield (electronics) and Billy Martin (percussion) interpret Martin's graphic scores. Paul Auster (spoken word) and Hal Willner (tape machines) offer reflections on the wandering mind, improvisation, and chance. Sirius Quartet (violins, viola, cello) will perform Sam, My Morning Feldman, Stridulations, and Martin's graphic score.
Go here to buy tickets.
Throughout the three-day event, Stridulations for the Good Luck Feast, a "scentstallation" by Phaedra Martin that encompasses sound, visuals, and scent will be installed in the Drawing Room.
Drawing Sound will continue September 11 through 13, 2015, when String Noise will present a three-night event featuring different performers at The Drawing Center. See details here.
Drawing Sound is made possible by the support of an anonymous donor, Charles Price, Galia Meiri-Stawski and Axel Stawski, and Isabel Stainow Wilcox.
More information can be found at http://www.drawingcenter.org/en/drawingcenter/5/exhibitions/9/upcoming/1119/drawing-sound-part-i-billy-martin/.
Image: Billy Martin aka Illy B, Veve 32, 2009, Ink on paper, 13.5×11 inches, courtesy of the artist.