News: Rock and Roll Drumming Legends Honored at Summer NAMM
World's Fastest Drummer (WFD) producer Jack Propps and Church's Chicken have joined to honor three living legends of drumming. This year's recipients of the WFD/Church's Chicken Legends Series Awards are D.J. Fontana (Elvis Presley), W.S. Holland (Johnny Cash), and Richie Albright (Waylon Jennings).
The Legends Series Awards will kick off the WFD World Finals at 2 pm on Saturday, July 11, as a featured attraction of the Summer NAMM Show held at the Music City Center in Nashville, TN. The event is open to the public with a day ticket as part of NAMM's Industry Day. Radio and TV celebrity host Charlie Chase, a drummer himself, will present the awards.
"If it were not for these three drummers doing what they love to do back in the day, we, at WFD, could not do all the crazy stuff we are doing today," says Boo McAfee, creator of WFD events. "Heck, without these guys, rock 'n' roll, country, and outlaw music would not be what it is today." Advertisement
D.J. Fontana was inducted into the Rock and Roll Hall of Fame in April 2009. Fontana was hired in 1955 as Elvis Presley's drummer, expanding the group to a four-piece, and remained with Presley throughout the fifties. During the sixties, when Presley turned his attention to movie making, Fontana was still present at many of his Nashville recording sessions.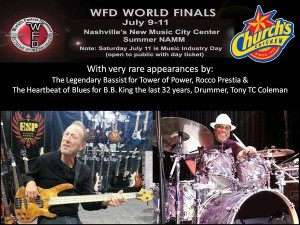 W.S. Holland is known worldwide as a pioneer in rock 'n' roll music. He played drums on all of Carl Perkins' Sun Records hits, including "Blue Suede Shoes." Holland went on to play drums on the iconic Million Dollar Quartet session that included Elvis Presley, Jerry Lee Lewis, Carl Perkins, and Johnny Cash on December 4, 1956. Holland spent forty years as Johnny Cash's drummer.
Richie Albright made history as a drummer, songwriter, and producer. The list of artists he played with includes Waylon Jennings, Jessi Colter, Willie Nelson, Johnny Cash, and Hank Williams, Jr. Richie produced and played drums on Waylon's 1980 number-one single, "Theme from Dukes of Hazzard (Good Ol' Boys)." His pro career spans over fifty years and forty albums. He is still going strong, producing and performing regularly. Advertisement
Celebrity host Charlie Chase was inducted into the Country Radio Hall of Fame along with his co-host, Lorianne Crook. Crook & Chase can be seen in more than 130 cities across the US, and the duo continues to host their long-running radio program, The Crook and Chase Countdown.
"As continuing support of community music education, Church's Chicken is extremely pleased to donate $1,000 in each award recipients' name to Nashville's W.O. Smith Music School," added Mark Snyder, chief marketing officer for Church's Chicken.