On the Beat With Muncie's Anna Cucciardo: The Challenges of Touring With a Baby
My previous Modern Drummer blog told the tale of a pregnant drummer—eighty-three gigs across the country during the nine months that I had a tiny human developing inside of me. (You can check out that story here) Although it was a unique time of my life, the year that followed was far more challenging, exciting, and generally executed with poor judgment. I now look back at those "good ol' days" of pregnant tours, reminiscing upon the simplicity. After all, how could life really be that rough when your band mates always carry the hardware bag?
My son Levon's first gig was five days after his birth, in late August 2013. I managed twenty-seven other gigs in the final four months of the year and a total of ninety-seven gigs across seventeen states in 2014. I did not intend to tour with a baby (and my band mates certainly did not either), but once gigs got on the books, and the dates grew closer, I realized bringing Levon along was the only option, as I vastly underestimated the effects of breastfeeding on my life. We musicians so often try to ignore this, but let's be honest about the reality of an average twenty-four-hour day on tour: about one to three hours are actually spent on stage, leaving the other twenty-one to twenty-three hours for being a mom, assuming the standard twenty-four hour work day.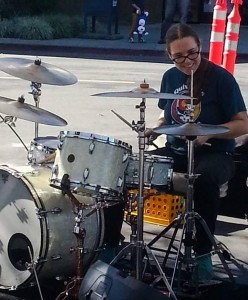 Levon first hit the road with my band Muncie at the ripe old age of five months. Since he coped well on a few trial three- to four-day runs up and down the coast of California (not seeming to notice anything out of the ordinary about hours on end in the van, or crashing on worse than questionable floors and couches), in true drummer form I did not hesitate to keep pushing my luck to its absolute furthest limits. If we can do a couple days, why not ten days? If ten, why not twenty? Advertisement
Muncie's "3 Guys, 2 Girls, 1 Baby Tour" was ten gigs in ten days between California and Colorado. The second girl refers to my friend Margie, our "roadie/sitter extraordinaire." Although I could manage load-in and set-up with Levon in the baby carrier (albeit looking ridiculous, plus ignoring any laws about minors in bars), the only chance of successfully touring required an extra helper to watch him while we play, and assist at other clutch times, such as unexpected, explosive diaper moments. Margie even drove my share, as I entertained Levon in his car seat with riveting readings of "Mr. Brown Can Moo, Can You"? and soothed him to sleep with practice pad renditions of Wilcoxon's Rudimental Swing Solos, a collection of under-appreciated, yet classic lullabies.
Our twenty-day, California-to-Maryland-and-back tour was on the books long before we got to see whether or not we made it out alive from the run to Colorado. The number of bad judgment calls surrounding this tour was record-breaking. We started by driving straight from Oakland to Albuquerque, and onward to Little Rock for the second gig, a 1 am to 4 am set. We then circled the Midwest and South (changing nannies in South Carolina), and headed up the Eastern Seaboard before trucking back West. At least we did plan one "day off" on this tour. No gig, but our only task was to make it from Milwaukee, Wisconsin (when Levon got to see his grandparents for a heartfelt fifteen or so hours) to McCall, Idaho, about 1,800 miles. Despite hitting a massive lightning storm for most of Montana, we did make it to the gig in about thirty-two hours of straight driving, and safely home a few days later. Muncie took a little break for several months after that fiasco, but my schedule remained full with a dozen or so weddings with my Motown cover band, West Grand Boulevard (www.westgrandblvd.com), during the summer, and another group that I began playing with in the fall, Jeremy Jones Band (www.jeremyjonesband.com).
When we reached Levon's first birthday last August, it warranted a celebration, complete with live music, a keg, and about sixty of his (i.e., my) closest friends. Now if that's not a normal childhood, I don't know what is. Advertisement
For more on Anna Cucciardo and Muncie, visit www.munciecalifornia.com