Battle Of The Bands To Benefit Little Kids Rock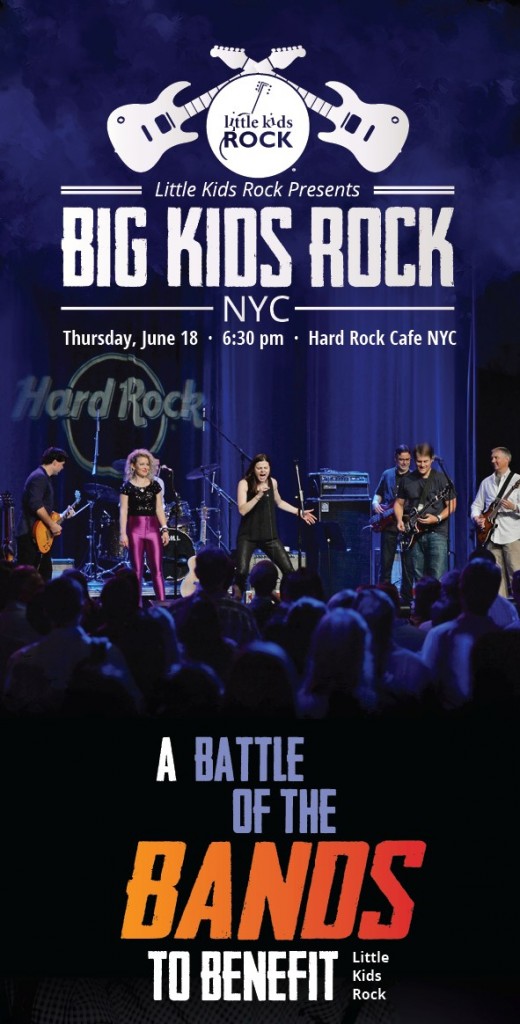 Thursday, June 18, 2015, 6:30 p.m. to 10:30. For information and tickets click here.
A Battle Of The Bands To Benefit Little Kids Rock will happen at The Hard Rock Cafe, 1501 Broadway, Times Square, New York, NY. Proceeds from this concert will benefit Little Kids Rock, a national nonprofit dedicated to ensuring all kids have the opportunity to unlock their inner music maker.
Little Kids Rock trains public school teachers and donates all of the instruments, curricular resources and support they need to ensure that their kids receive the right to rock. What makes Little Kids Rock different is that they do more than just donate instruments like guitars, drums and keyboards; they build lasting music programs that focus on teaching kids to perform, improvise and compose the popular music genres that they already know and love, like rock, pop, blues, hip-hop, country, reggae and R&B. To date, Little Kids Rock has enriched the lives of more than 400,000 school children.