Showroom: Vater Mallets and Marching/Orchestral Implements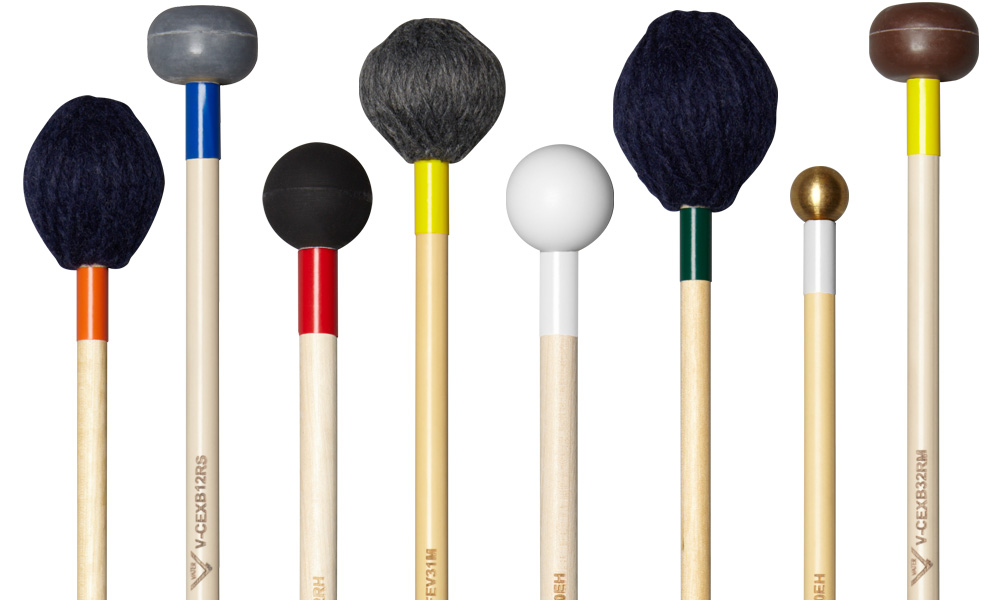 The new Power Bass Drum mallets feature a shaft that starts with a .870″-diameter grip and then slightly tapers up to a .890″ diameter at the head. This allows for a heavy and powerful sound, and the shaft is designed to withstand rimclicks.
The Tenor Stick Sizzle features a hard-felt ball affixed to the butt end of the shaft to allow for fast changeovers.
Vater's new Front Ensemble mallets include marimba mallets featuring a larger rubber core and .34375″ birch shafts, which add weight and bring out a richer sound from marimba bars and cymbals.
The FEXB series mallets feature three distinct 1.125″ heads that offer different timbres and projection. All models feature .34375″ birch shafts for weight and durability and are ideal for bells, xylophone, crotales, or any other instruments that require hard mallets. Advertisement
Vater's new vibraphone mallets include three models: one oval and two with mushroom heads. Hard-rubber cores are said to provide rich sonority and graduated-sized heads and synthetic yarn, with .34375″ rattan shafts, are said to offer superior feel and durability.
Vater's rubber mallets offer full 1.125″ round-rubber heads that are said to produce rich, full sonorities and are ideal for keyboards, woodblocks, and various percussion instruments.
The Concert Ensemble oval-shaped marimba models feature hard-rubber cores for rich sonority. The .3125″ satin-finish birch handles, with graduated-sized heads and proportionate weights, are designed to offer projection and speed.
A selection of four xylophone and bell models provides a variety of tonal colors necessary for performances in percussion ensembles. The .34375″ rattan shafts are used for superior feel and durability. Advertisement
Vater's three Concert Ensemble vibraphone mallets include one oval and two mushroom heads and feature hard-rubber cores. Additional features include graduated-sized heads and tightly wrapped multi-ply chord with .32375″ rattan shafts.
Visit www.vater.com for more information.