News: Terry Bozzio and Tom Shelley Hitting the Road in 2015 With Their "Drums and Percussion??? Tour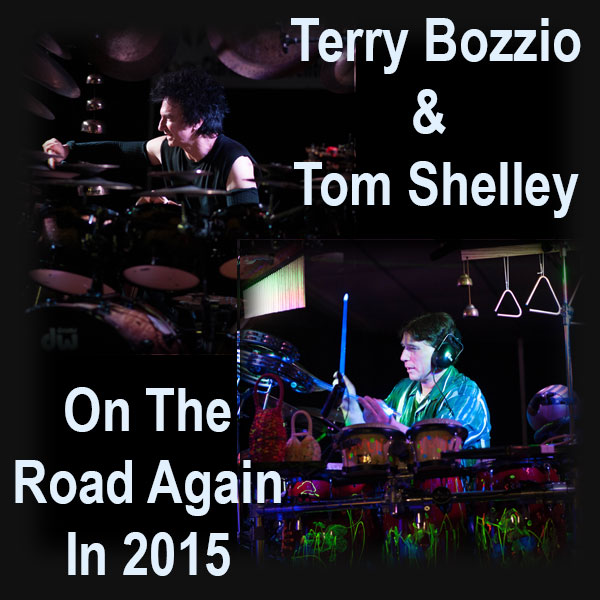 Terry Bozzio and Tom Shelley are once again hitting the road for clinic tours. Universal Percussion will sponsor the appearances in conjunction with select drums and percussion dealers.
Terry Bozzio needs little introduction to drumming fans. From his groundbreaking performances with Frank Zappa, the Brecker Brothers, UK, Group 87, and Missing Persons to his unprecedented work as a solo drum composer, Terry has established himself as an original and innovative artist.
Tom Shelley, of Universal Percussion, will be accompanying Terry on percussion and has expanded his setup to add new sounds, visuals, and some exciting special effects. Both will team up in presentations designed to entertain, educate, and inspire all who attend. Terry will focus on drumset performance and technique, and Tom will demonstrate how a wide variety of hand percussion instruments are played. The duo will play together to illustrate how drumset and percussion can be combined in a musical fashion and a drum circle for children, parents, and any other interested participants will also take place.
Current Dates
April 16 2112 Percussion, Raleigh, NC Tony/Steve 919-833-0046
sales@2112online.com
April 18 ATL Drum Collective, Atlanta, GA Clint (770-722-5446)
atldcfinance@gmail.com Advertisement
April 19 Mike's Music , Denham Springs, LA Mike (225-243-5220)
miked@totalenergysolutions.net
April 25 Melhart Music, McAllen,TX Art (956-682-6147)
artbaca@melhart.com
April 28 Drum World, Tulsa, OK Mat (918-270-3786)
drummat@sbcglobal.net

To book a clinic, contact Shawn at Universal at 800-282-0110.