Drummer Blog: Vince Wilburn Jr. Talks Heroes, Projects, and Uncle Miles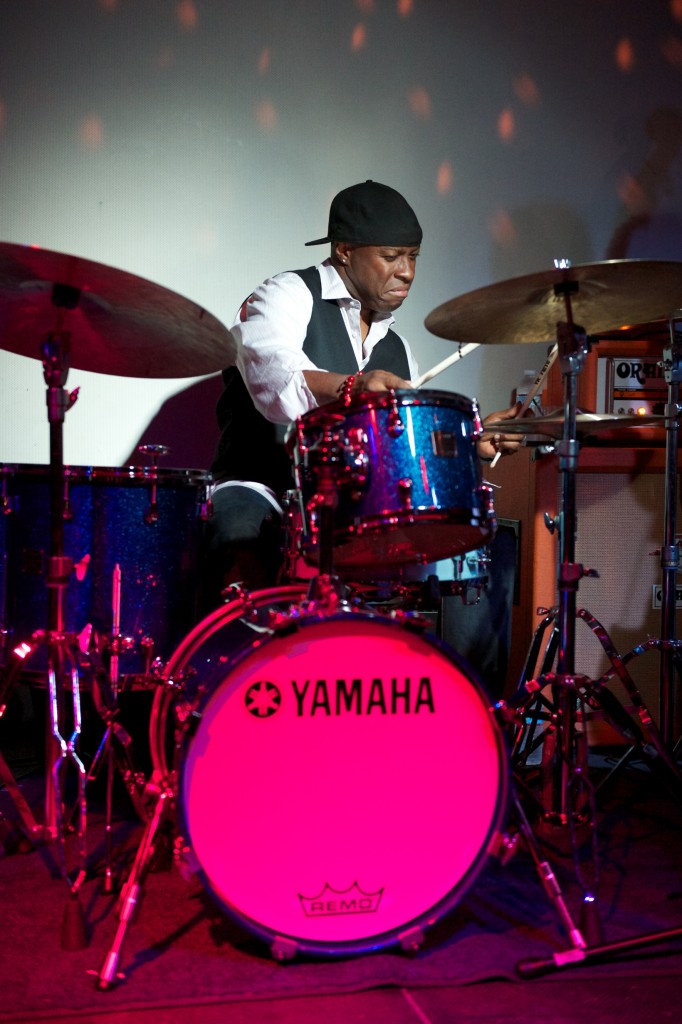 Hello, MD readers. Vince here. I consider myself eternally blessed. From an early age, I was able to experience music from the very best seat in the house—backstage. My mom took me to all the greatest gigs, giving me a rare chance to see, hear, and really experience music, unlike other kids my age. For that, I am forever grateful. The other great blessing was having Miles Davis as my uncle. Music became very personal to me. It's part of my DNA.
My love for the drums began in kindergarten, on Chicago's south side, when I was chosen to be the "Little Drummer Boy" in the school play. A few grades later I noticed that the guy who could play the coolest beats on the desk could always get the classroom dancing when the teacher wasn't in the room. One day I played James Brown's "Cold Sweat" beat on my desk and suddenly I was the man.
My first kit was a Norma four-piece blue sparkle with a splash cymbal that we bought from a mail-order catalogue. I tore that kit up! Around this time my uncle Miles told my mom, "Maybe he's ready for a professional kit." My dad took me downtown to Bill Crowden's place, Drums Limited. I picked out a Ludwig clear Vistalite kit. I was drawn to Ludwig drums because Ringo Starr played them. Advertisement
I was lucky growing up in Chicago, which was the Ludwig Drum Company was based. The first time I saw the Beatles on television, I knew I wanted to be Ringo. I convinced my mom to get me a Nehru jacket and Beatle boots. The Ludwig kit came later.
In those years, uncle Miles would pass through Chicago, and I would go to the concert and hang backstage, listening to the music. I was too young to know the differences between music styles—to me it was all music. That's what fascinated me at the shows. How did they set up their kits, what kind of cymbals did they play, and why? I wanted to know.
I didn't categorize anyone—I got just as much from Ringo as I did from Tony Williams. All the drummers that came to town fascinated me. Later, I heard Tony had a Beatles poster in the apartment he lived in at my uncle's brownstone. Tony was a Beatles fan! Tony, then Jack DeJohnette, and later Al Foster…I learned from watching them all. Advertisement
There was a record promotion man that my uncle Miles would call, named Mr. Granville Wight, affectionately known as "Granny." Uncle Miles told Granny to deliver these records to my home: Sly and the Family Stone's Fresh, The Immortal Otis Redding, Jimi Hendrix's Band of Gypsys, and James Brown's The Big Payback. Those records changed my life.
My mom let my various bands practice in the basement as long as I kept my grades up. Chicago, the Ohio Players, Earth, Wind and Fire, and Kool and the Gang, who we opened for, influenced us.
There was a particular Miles concert that sticks out in my mind, with Al Foster on drums, Michael Henderson on bass, Pete Cosey and Reggie Lucas on guitars, Mtume on percussion, and Dave Leibman on sax. Al Foster was one of the first endorsees to play Yamaha drums. He was on fire with that funky backbeat and hi-hat. He gave me a pair of his 1S drumsticks. This is the concert that really changed my life.
In the late 1970s, Miles had been off the scene for a while but he would call my mom during our band rehearsals. He asked my mom to take the phone downstairs so he could listen to the band. After rehearsal, he would speak to us one-by-one and critique us. One night he said, "Do you guys want to make a record"? We flew to New York to record Man With the Horn. Advertisement
A few years later, the drum chair became available, after the You're Under Arrest sessions. Our first gig was at the Long Beach Jazz Festival. As I looked to the side of the stage, I saw Jack DeJohnette, Dave Weckl, Freddie White of Earth, Wind and Fire, and many other musician friends. That was a beautiful night.
We toured the U.S. and the world. I referred to this as Miles Davis University. Some of the concerts that still stand out in my mind are the Amnesty International concert at Giant Stadium, which was televised worldwide, and a tour of Brazil, where we played one week in Sao Paulo, then another in Rio, and I got to meet my drum hero Robertinho Silva.
In France, a few years earlier, I was able to meet Buddy Rich. Man, meeting my drum heroes is something I will forever cherish. But how I play and how I hear music is because of Uncle Miles.
I love the fact that I can tour with my current brothers in the Miles Electric Band. The band consists of alumni from Miles' various electric periods, including Darryl Jones, Richard Patterson, Mino Cinelu, Badal Roy, Blackbyrd McKnight, Robert Irving III, John Beasley, and Gary Thomas, and featuring on horn either Wallace Roney, Nicholas Payton, Etienne Charles, or Christian Scott. Additional players include Antione Roney, DJ Logic, and Jeremy Ellis. Advertisement
I've also worked on remixes and re-recordings of Miles' music, like Evolution of the Groove with Nas and Carlos Santana and Miles From India with Bob Belden. Right now I'm most excited about the upcoming Miles film, Miles Ahead, starring Don Cheadle and Ewan McGregor that I'm a producer on. It's been a long-time coming.
For me, drumming and music is just as important as breathing. My life has been one amazing world tour, connecting me with my heroes and continuing to push me to be better. It opened up the world to me and showed me exactly what I am capable of. I salute the drumming community. And I thank Uncle Miles every day!