Drummer Blog: Hellyeah's Vinnie Paul Talks Band Chemistry and Upcoming Tours

Hello! 2014 was the beginning of a new era for Hellyeah. After relieving two members of the band, Tom, Chad, and myself pulled together to make the best record of our career, Blood For Blood. We really believe we created the ultimate Hellyeah sound and wrote the best songs together yet.
We had some great touring opportunities coming up, and we wanted the live band to be better than ever. We also knew that we had to have personalities that fit the chemistry of the band. Instead of holding auditions for the next Randy Rhodes or Steve Harris, we went to the first people that came to mind. Kyle Sanders toured with us many times, so we gave him a call and he was in. We all came to know Christian Brady through my residency in Las Vegas, so that was a no brainer. They both fit the band in every way, and from the first rehearsal it was magic. It just felt right, and we knew we had a band again!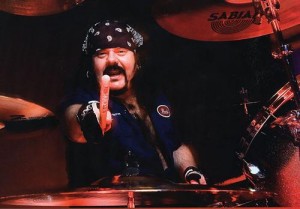 I sent Matt Shadows a few tracks after we finished the record, and the next thing you know we were direct support for Avenged Sevenfold all over the USA and Canada. What a great tour! Then we were asked to join Five Finger Death Punch and Volbeat on their USA tour—This was amazing, as Blood For Blood was finally out and our fans had a chance to hear the new music and direction of the band. We had our first top-10 hit, "Moth," at rock radio, and this concluded 2014 with a big New Year's Eve show in our hometown of Dallas, Texas. Advertisement
2015 brings us to our first headlining tour in a while, and we are very excited to get to play most of the material off the new record. The tour starts in February, and dates are included below. There will be a second leg in April, along with some big US festivals. We head over the pond to Europe in May and can't wait to do our shows and the big Euro festivals.
So that brings us up to the summer of 2015, which gives us many festival options. After that, it's off to Australia, Japan, South America, and once more back to Europe before we star work on our fifth album.
Thank you for all the support, and here's to seeing you on tour!
| | | |
| --- | --- | --- |
| Fri 02/06/15 | Las Vegas, NV | Brooklyn Bowl Las Vegas |
| Sat 02/07/15 | Reno, NV | Knitting Factory Concert House |
| Sun 02/08/15 | Sacramento, CA | Ace Of Spades |
| Tue 02/10/15 | Spokane, WA | Knitting Factory Concert House |
| Wed 02/11/15 | Boise, ID | Knitting Factory Concert House |
| Fri 02/13/15 | Salt Lake City, UT | The Complex – The Grand |
| Sat 02/14/15 | Denver, CO | Summit Music Hall |
| Sun 02/15/15 | Wichita, KS | The Cotillion |
| Tue 02/17/15 | Kansas City, MO | Arvest Bank Theatre At The Midland |
| Wed 02/18/15 | Lincoln, NE | Bourbon Theatre |
| Fri 02/20/15 | Columbia, MO | The Blue Note |
| Sat 02/21/15 | Sioux City, IA | Hard Rock Hotel & Casino Sioux City |
| Sun 02/22/15 | Minneapolis, MN | Mill City Nights |
| Tue 02/24/15 | Flint, MI | The Machine Shop |
| Wed 02/25/15 | Fort Wayne, IN | Piere's Entertainment Center |
| Fri 02/27/15 | Philadelphia, PA | Trocadero Theatre |
| Sat 02/28/15 | Uncasville, CT | Wolf Den |
| Sun 03/01/15 | Sayreville, NJ | Starland Ballroom |
| Tue 03/03/15 | Baltimore, MD | Rams Head Live! |
| Wed 03/04/15 | Knoxville, TN | The Concourse |
| Fri 03/06/15 | Wilmington, NC | Ziggy's By The Sea |
| Sat 03/07/15 | Charlotte, NC | Amos' SouthEnd |
| Sun 03/08/15 | Atlanta, GA | Center Stage Theater |
Advertisement
For more news and tour dates, visit http://www.hellyeahband.com.