Drummer Blog: The Bots' Anaiah Lei on Incorporating Jazz and Other Musical Styles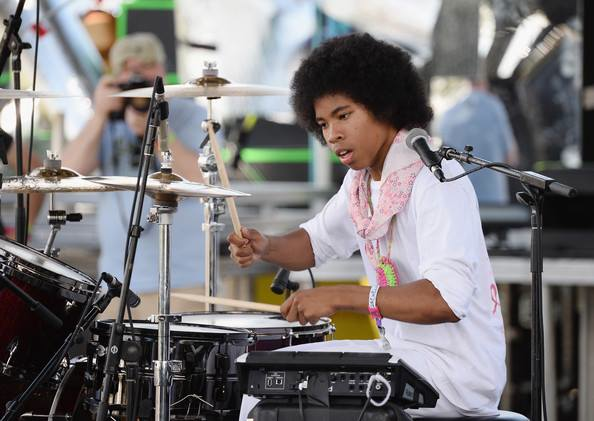 Hi, guys and girls! My name is Anaiah Lei, and I drum for a band called the Bots, from Los Angeles, California. I was born and raised in Los Angeles, and I've been drumming for about eleven years. I joined the Bots not too long after it started and have been with the group since.
Ever since I was a young child the drums always seemed the most interesting to me. I really thought it was astounding for some reason. When I was six years old, I started trying to play drums in the local Guitar Center drum section, looking up drummers from bands that my dad showed me—Earl Hudson from Bad Brains, John Bonham from Zeppelin, and Neil Peart from Rush, just to name a few.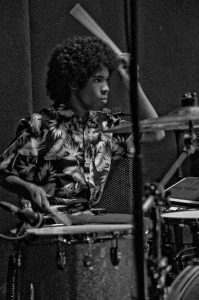 For my eighth birthday, my dad bought me a Tama starter drumkit, which definitely helped with practicing rather than playing on a pad or at music shops. I like to say that I have a really weird drum style, and I gather my technique from a number of different styles. I'm a big progressive fan, as well as a fan of classic drummers like Keith Moon and experimental drummers like Brian Chase and Greg Saunier. I love jazz music and drummers like Art Blakey and Buddy Rich have had a big influence on how I play. I apply it to my drumming, and I mix it into the style of music we play in the band. I'm in love with both technicality and simplicity. Advertisement
Right now I'm playing on an OCDP kit from the Avalon series; I've had the kit for a long time, and it has held up for many years. I used to play 55A sticks but I've been hooked on 5A for about two years now. On tour, I have various different Zildjian cymbals (18″ K Dark crash, 19″ K Hybrid, 20″ K Heavy ride, and 14″ hi-hats from the A series), as well as standard DW hardware.
The band's second LP, called Pink Palms, came out in October 2014. I got to experiment with different drum sounds from various kits, snares, even incorporating the use of drum machines. I'm really excited to see the future of the band and development of our sound.
For more visit facebook.com/thebotsband.