News: Enter Evans' Heavyweight Tournament Now!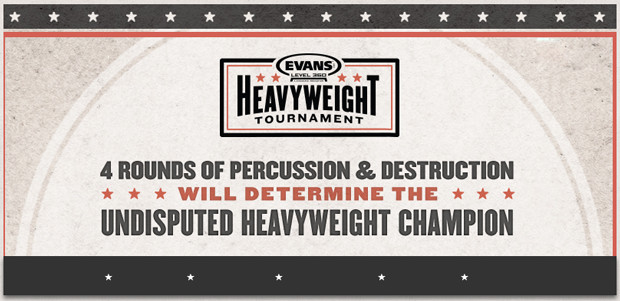 Evans is seeking the heaviest hitters for its Heavyweight Tournament. Drummers are called to compete, for four rounds, in a single-elimination battle to determine the "Undisputed Heavyweight Champion." Winners are determined by votes every week, with each competition's top voter advancing.
From now until January 20, drummers are asked to join the battle by creating a two- to three-minute video of their best drum solo and posting it on YouTube. Sixteen selected finalists, to be notified on January 21, will be given new Evans Heavyweight drumheads, so they can create a new video that will be used in the final competition.
The finalists will be announced via social media on February 10, when Round 1 voting will begin. Round 1 voting will end on February 16, and Round 2 will take place from February 17 to February 23. Round 3 will take place from February 24 to March 2, and the Final Championship voting will take place from March 3 to March 9. The Grand Prize Winner will be announced via social media on March 10. Advertisement
Sixteen finalists will receive the Heavyweight bass drum head and Heavyweight snare batter, and the grand prize winner will receive the Evans Black Chrome tom pack, a Mapex Matt Halpern–designed Wraith snare, a Puresound Custom Pro snare wire set, and an Inked by Evans gift card (total retail value of over $1,000).
"We're very excited to see some heavy-hitting drummers go head-to-head," says Ben O'Brien Smith, Evans' percussion product specialist. "The Heavyweight drumheads have proven that they can take a beating and stay in the fight. Now, it's time to see who can dish out the crushing blow."
To participate in the Evans Heavyweight Tournament, you must be a US citizen and age eighteen or older.
To enter, visit www.evansdrumheads.com/heavyweighttournament.