Showroom: Toca Unveils New Djembe Finishes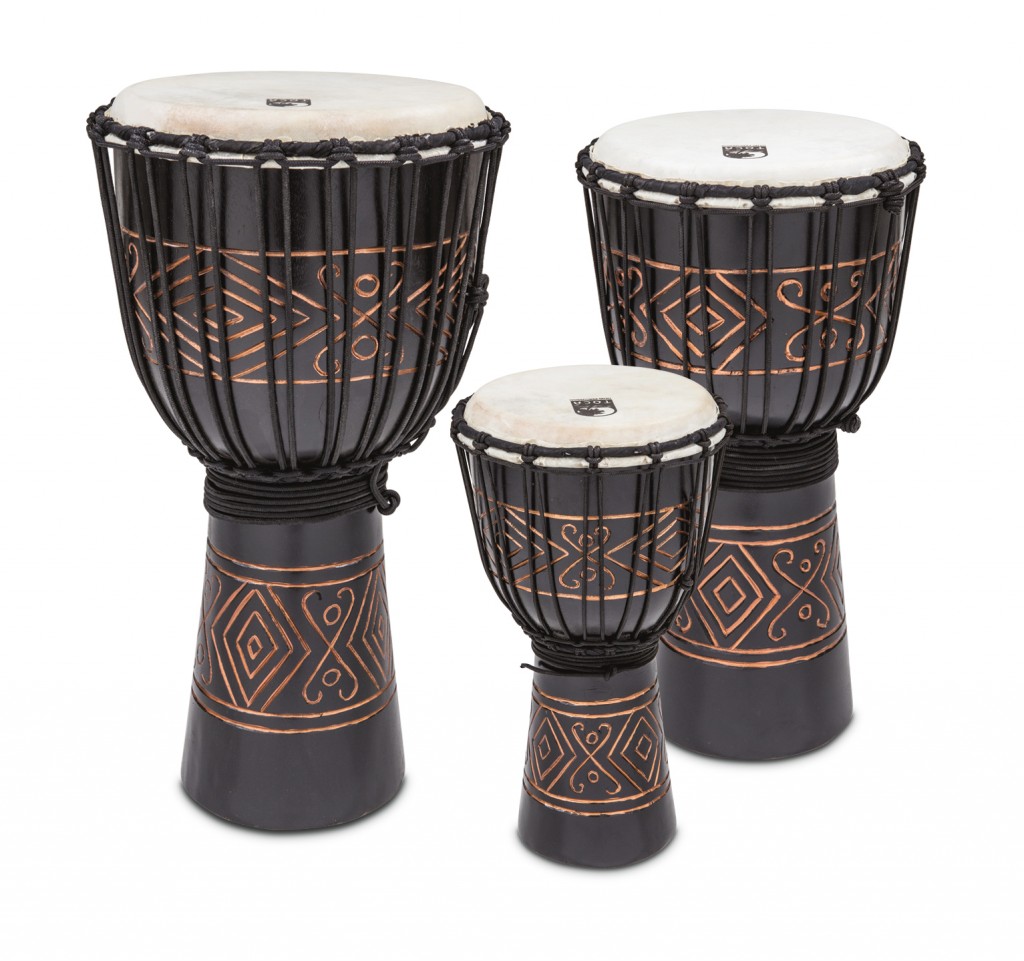 Toca's Street series djembes are now available in a black onyx finish. Hand carved from one piece of environmentally friendly, plantation grown mahogany, the djembe has a kiln-dried shell with twenty coats of teak oil, which protects and preserves the wood.
"The Street series djembes have always been admired and appreciated by percussionists, and our new black onyx finish promises to raise that interest," said Director of Product for Toca, Victor Filonovich. "This subtle yet commanding hand-carved design resonates an intrinsic power, and even without flashy embellishments this djembe will steal the show."
Ideal for beginners, every Street series djembe is outfitted with a hand-selected goatskin head and authentic rope tuning. Black onyx finish djembes are available in small (list price $75), medium ($130), and large ($240). Advertisement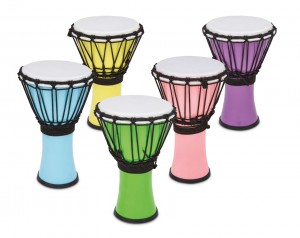 Toca has also expanded the range of available colors in its line of Freestyle Colorsound djembes. Now available in five new pastel colors, Freestyle Colorsound djembes are 12.5″ high with a 7″ synthetic head, nylon rope tuning system, and protective rubber bottom. Each djembe is made from a lightweight, seamless synthetic shell material, making them ideal for music educators and drum circle enthusiasts.
"The Colorsound line has been very popular, and we wanted to give players more ways to personalize their instrument," said Filonovich. "These pastels offer players appealingly fun and exquisite colors, allowing the individual to express his or her personality."
Freestyle Colorsound djembes are available in pastel blue, pastel green, pastel pink, pastel purple, and pastel yellow. Djembes are sold individually with a list price of $59.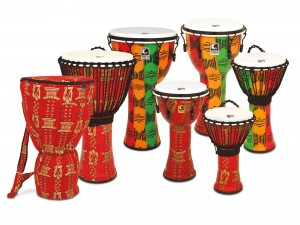 Toca's Freestyle II djembes are now offered in two new finishes, the Spirit and Thinker. The Spirit finish, green, yellow, and red, is based on the colors of the traditional Rastafarian movement, while the Thinker, two shades of red with a burnished gold design, is inspired by traditional African designs. Both designs are available in either mechanical or rope tuning versions. Advertisement
"Freestyle II djembes are designed with the player in mind, especially these new finishes," said Victor Filonovich. "We can imagine these exhilarating colors, sounds, and styles inspiring exciting music and enlivening rhythms."
Available in a variety of sizes, 9″ head, 16.5″ high; 10″ head, 20″ high; 12″ head, 24″ high; and 14″ head, 26″ high, the lightweight and durable djembes are ideal for drum circles as their all-weather synthetic heads eliminate stretching, drying, or losing pitch, and feature a protective nonslip rubber bottom. Additionally, the 14″ djembe comes with a matching bag. Freestyle II djembes offer higher, crisp slaps, deeper bass tones and are sold individually.
For more information visit www.tocapercussion.com.