Product Close-Up: Canopus New Yaiba Bop and Groove Drumsets (December 2014 Issue)
The complete review of Canopus New Yaiba Bop and Groove Drumsets, which appeared in the December 2014 issue of Modern Drummer magazine.
Canopus New Yaiba Bop and Groove Drumsets
Although they've been updated to be more affordable, these two Japanese-made kits sacrifice nothing in sound and performance.
We reviewed the original Yaiba Bop and Rock series drumsets from Canopus in the August 2010 and May 2011 issues and were thoroughly impressed with their clear, musical, versatile sounds and ultraprecise construction. The series was conceived to offer a more affordable option than the company's flagship lines, without sacrificing strength and performance. Canopus recently revamped the Yaiba series, rebranded as New Yaiba, in an effort to bring the price down and to differentiate the sonic characteristics of the two configurations, which are now called Bop and Groove. We were sent a set of each to review.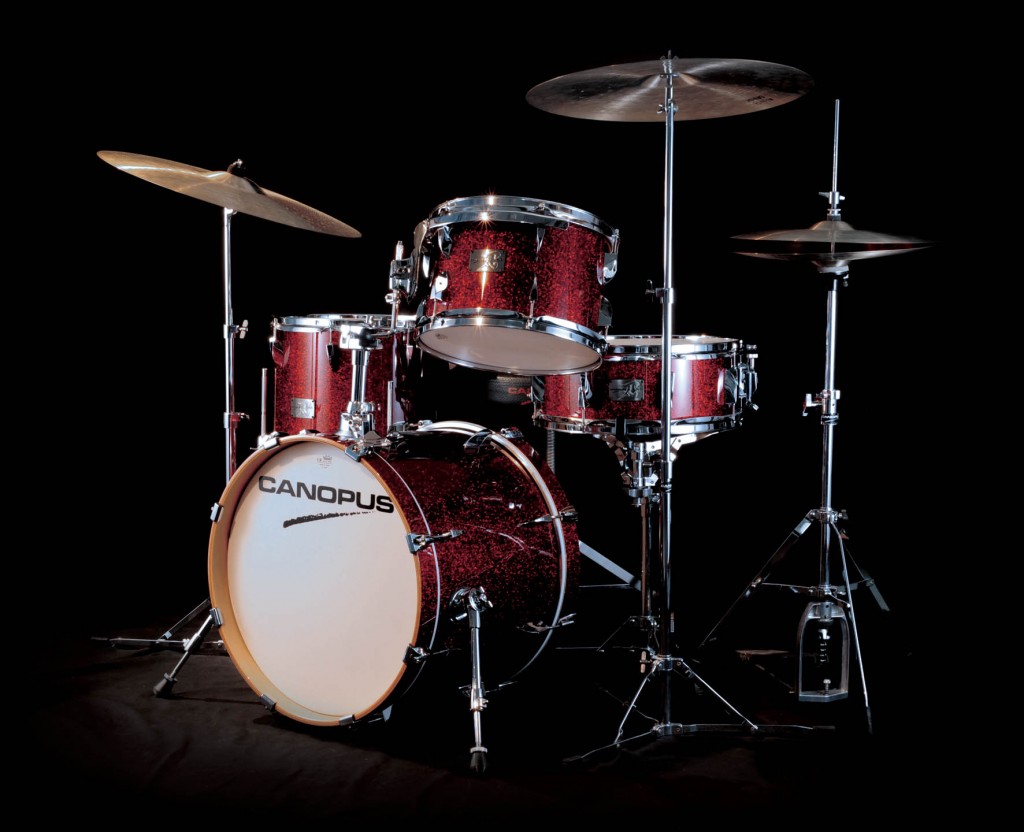 New Yaiba Bop
The New Yaiba Bop kit ($1,500) comes in traditional jazz sizes, with a 14×18 bass drum, an 8×12 rack tom (with suspension mount), a 14×14 floor tom, and a 5.5×14 snare outfitted with Canopus Vintage wires. The toms and snare come with the company's popular Bolt Tight washers, which are designed to minimize tuning slips. The finish on our review kit was a dark red sparkle lacquer, which the company states is applied in a less-time-consuming manner than the nitrocellulose it uses on its more expensive lines. While this decision was made largely for cost savings, the drums still look gorgeous, and the lacquer is applied flawlessly.
The bass drum had a tom mount installed, and the kit includes a single-tom holder. The toms and bass drum come with Remo USA Coated Ambassadors on both sides, and the snare has a Coated Ambassador batter and a Clear Ambassador bottom. The shells are all maple without reinforcement rings. Advertisement
As we discovered with the original Yaiba Bop kit, these revised drums are absolutely top-notch instruments capable of a much wider range of sound than their sizes would suggest. At any tuning, the attack was precise, the pitch was clear, the sustain was clean, and the decay was long and even. In short, this was a no-fuss, great-sounding kit that projected beautifully in acoustic situations and also recorded very well. The highlight for me was being able to take the drums from an ultra-tight Max Roach tuning down to a tubby Al Jackson Jr. vibe with very little effort and zero lag in performance.
New Yaiba Groove
To separate the New Yaiba Groove kit ($1,500) from the Bop set in greater ways than simply by increasing the dimensions, Canopus decided to make these drums out of birch, supplying them with Remo UT Clear Ambassadors on both sides of the toms, a UT Coated Ambassador snare batter, and a Clear Ambassador bass drum batter. The sizes include a deep 18×22 bass drum, 8×10 and 8×12 rack toms (with suspension mounts), a 16×16 floor tom, and a 6.5×14 matching snare (with Canopus Vintage wires). As with the Bop kit, the Groove setup comes with Bolt Tight washers on the toms and snare. Unlike the Bop kit, there is no tom mount included on the bass drum, so the rack toms have to be hung on stands. Our review kit came in another gorgeous sparkle lacquer finish, which Canopus calls Yaiba gray. (Two other lacquers, white and ebony, are available on either Yaiba kit.)
Whereas the Bop outfit had a classic, all-purpose sound with a great balance of highs, mids, and lows, the Groove kit catered slightly more toward contemporary applications where greater emphasis on attack, punch, and power are required, thanks in part to the birch shells and clear drumheads. That said, they were still extremely versatile drums with crystal-clear response at all volumes and tunings. The kick drum could punch or boom, the snare could whisper and pop, and the toms could be tuned for thunderous lows or crackling highs. What can I say? I'm a fan! Advertisement
Michael Dawson
See what else is in the December 2014 issue of Modern Drummer magazine here.