What You Need to Know About…Cymbal Stands
This article originally ran in the Nov/Dec 2013 issue of Drum Business.
by Ben Meyer
All drummers require hardware of some kind. Knowing what kinds of packages are available from your favorite brands, as well as becoming familiar with individual solutions to common mounting requirements, will help you find what works for you. In this article we'll look closely at some of the different types of cymbal stands.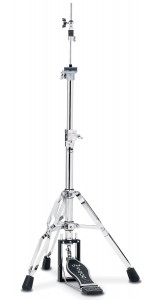 Hi-Hat
Descendants of the foot-operated low-boy cymbal crasher of the early twentieth century, the hi-hat stand is something that nearly every drummer uses. Two-leg, no-leg, and cable-operated models have expanded the field, but it's the three-leg collapsible models that you see used most often. The inclusion of sturdy baseplates, tilting bottom-cymbal cups, and swiveling tripods are a few of the innovations that grace more recent models.
Generally you want to look at what kind of weight requirements you have, and whether you're looking for something as sturdy as a Cadillac or as affordable as a Kia. Nearly all of the major manufacturers offer at least a few different models, ranging from light and simple to heavy and feature rich. What diameter of hi-hats do you play? How hard do you hit? Do you use a double pedal? Are you touring in a van or truck and lugging your own gear in and out of venues? Also consider the diameter of the pull rod when suggesting a hi-hat stand. They're not always the same, which can make finding a replacement clutch in a pinch a lot more difficult. Always pick up a spare! Advertisement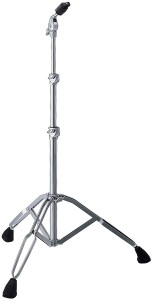 Straight Stands
The most simple and sturdy of the lot, straight stands offer light to heavyweight options that can be a great solution for simple setups and are most commonly used for ride cymbals in more complex setups. It really comes down to positioning options when choosing between straight and boom stands. For example, is the ride cymbal going to be placed in the usual spot next to the bass drum, or is it going six feet in the air above some Octobans and slightly to the left of a gong?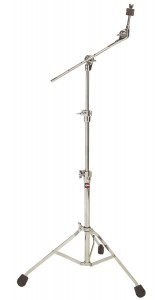 Boom Stands
These models offer the most positioning flexibility and are commonly used for crashes, splashes, and effects cymbals. Models featuring disappearing booms, or booms that collapse inside the upper joint of the stand, offer the most flexibility, as they can function as straight stands too. Factors such as single versus double bracing, the number of vertical sections, and the length of the boom should be chosen based on the size and weight of the cymbal or percussion instrument the stand will be used to suspend. For example, a lightweight, single-braced model should be fine for positioning an 18″ crash a few inches off the stand's center of gravity, while a double-braced model with a long boom arm and counterweight would be better suited for mounting a heavy ride or China in more extreme positions.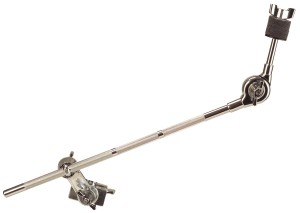 Add-On Boom Arms
These handy accessories come in a variety of sizes and are sometimes packaged with clamps that can be used to add them to existing stands. They're a great solution for smaller effects cymbals like splashes, mini Chinas, cup chimes, bells, and crotales. They're also great for mounting tambourines and electronic pads. We wouldn't recommend add-on boom arms for mounting heavier cymbals or cowbells, as the added weight will tend to make the arm bounce excessively during play and possibly come loose and move out of position. Advertisement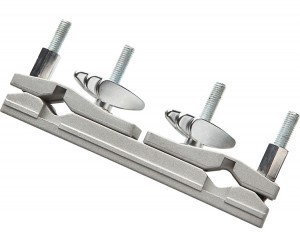 Clamps
Clamps are staples in today's more complex drum and percussion setups, because they offer the ability to add instruments in spots where it's physically impossible or awkward to use a full stand. Simpler models feature one-to-one clamping options, whereas more complex models offer one-to-two or even one-to-three capability. Brush up on the various clamps that the different hardware manufacturers offer.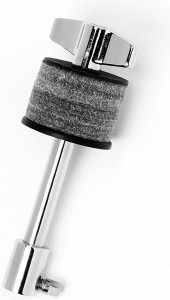 Stackers
These short extenders help drummers customize their setup by allowing cymbals to be placed on top of an existing stand. Typically, smaller effects cymbals will be stacked on top of crashes and Chinas, but there's no end to the creative ways drummers will find to use accessories like these.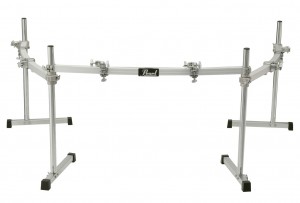 Racks
These contraptions offer rails and clamps for drummers to mount drums and cymbals, in order to avoid having a forest of tripods on the floor. Gibraltar, Pearl, DW, and others offer racks in a few different configurations. Do some research to find the various options, advantages, and applications of each in terms of your individual needs. Advertisement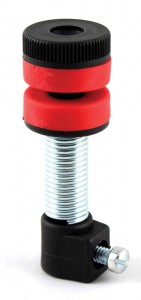 Springs, Sleeves, and Felts
Though relatively inexpensive, these accessories can make or break a drummer's performance. Cymbal springs involve the cymbal being mounted on a heavy metal coil that attaches to the threaded end of the stand. This allows the cymbal to react to the forces of playing differently from the way it would when mounted traditionally on a threaded metal rod. Some players like to use cymbal springs for Chinas, but they're not typically used on larger, heavier cymbals, such as rides.
Sleeves, felts, washers, and other accessories help to protect cymbals from damage that can happen over time when the hole in the center of the cymbal rubs against the unprotected metal post of the stand. Not using sleeves or proper felts can cause cymbals to keyhole, which is when the hole becomes elongated due to the friction, or cracks can begin to emanate from the center of the cymbal outward.
Many clever accessories are now available that combine the washer, sleeve, and bottom felt into one convenient piece. These are a great, simple solution to preventing cymbals from being damaged. Beware not to over-tighten the wing nut that holds the cymbal on the stand, as doing so can also lead to premature cracking. Advertisement
When looking for the best hardware for your needs, it's a good idea to start with a brand that you already own or like. At your favorite drum shop, be sure to check out a variety of mounting choices and ask about the strong and weak points of different stand options. Good luck, and happy drumming!
And be sure to check out our other What You Need to Know About features here.