Latin Percussion Icon Milton Cardona Remembered
by Victor Rendón and Ken Ross
On September 19, 2014, Milton Cardona, a fixture of the New York salsa and Latin-jazz scene, passed away of heart failure. He was sixty-nine. Cardona, a Puerto Rican who grew up in New York City, came into prominence in the 1970s with the historic recordings of Willie Colón and Héctor Lavoe. He went on to play and record with many top artists, including Michael Brecker, Tito Puente, David Byrne, Paul Simon, Herbie Hancock, and Rubén Blades.
Cardona was an advocate of playing in the classical tradition, often on just one drum. He was known to say, "If you start out the tune playing on five conga drums, where are you gonna go from there"? Milton was also a singer, a sacred drummer (Olubatá), and a high priest (babalawo) in the tradition of Ifá, and was among the first to bring the sacred rhythms of the batá to a secular setting. In 1986 he recorded his own album Bembé, which is now regarded as one of the all-time classic recordings of Afro-Cuban folkloric music.
Cardona's colleagues and friends remember him as a fierce warrior who played hard but also had a good-natured, kind spirit. We asked some of these friends and colleagues to share what they remember about him. Advertisement
Louie Romero (Willie Colón Band)
It is a blessing in my life to have worked with a musician with such dedication and passion as Milton Cardona. He taught me how not to fear the tumbadoras [congas]. He also said, "Learn how to master one drum and then imagine what you can do with two." I now love playing congas.
John Santos (independent artist, educator)
I am very saddened by the passing of Milton Cardona. He was a gentleman dedicated to the drum, and he was very open and hospitable toward me during my visits to New York over the years. In fact, Milton was the first New York drummer to open up to me when I met him in the mid-'70s. He was a fellow scorpion and fierce drummer with a particular focus on rumba and batá, and a wicked sense of humor. I can still hear him laughing, and his signature "takkaaa" is burned into my heart.
When he saw that I had similar interests to his, Milton generously shared his knowledge and expertise with me. We hung out several times in New York and San Francisco, and as many of you know, he used to hang hard. Gratos momentos, which I will never forget! Advertisement
I met José Mangual Junior and Senior, Willie Colón, Jerry and Andy González, Manny Oquendo, Rene Lopez, Steve Berrios, Gene Golden, and that whole crew through Milton. He gave me a great thrill by inviting me to sit in on his one "pan con queso" tumbadora with la charanga Tipica Ideal when they visited San Francisco around 1977. That was big for a twenty-two-year-old like me!
Milton was a great and unsung tumbador and a humble human being. His marcha, sound, and taste were impeccable, and he was a super-tasty corista, too! May he rest in peace. Much light to his beautiful drumming soul, and much love and strength to his family.
Michael Spiro (independent artist, professor at Indiana University)
Milton Cardona was one of my role models as I was learning to play. He embodied all that the consummate musician should be. I say this because he was not only a major figure as a percussionist in both the popular and sacred forms of Latin music, but also because he demonstrated the critical importance of being a singer in all of these forms. Milton was the complete and total artist, and he shall remain a shining example to all of us who follow in his footsteps. Advertisement
Bobby Sanabria (independent artist, professor at Manhattan School of Music)
When I was growing up in New York City, Milton was a powerful presence on the ubiquitous Afro-Cuban-based dance music [salsa] scene. But he was also a visible connection to our West and Central African rhythmic roots, as he was a sacred drummer, akpwon [lead vocalist], and babalawo in Ifá, the religion that the Yoruba people from Nigeria brought to Cuba and the rest of the Americas during colonialism, known in the so-called new world as Santeria. By his mere presence and the deep respect he commanded, Milton constantly reminded us of that spiritual connection that makes up and is essential to the music we play. His humor, kindness, and deep knowledge, as well as his musicianship, will never be forgotten. I'm honored to have called him a friend, colleague, and mentor. Ibae bae tonu, Maestro.
Martin Cohen (founder of LP Music Group)
I met Milton around 1974. I opened the door to my house in Hillsdale, New Jersey, expecting it to be José Mangual Jr., who was a little late. That's when I saw Milton Cardona for the first time. From the beginning he spoke of the orishas, which I didn't have any real knowledge of. I understand that an understanding of Santeria was a lifelong pursuit of his. When I decided to create an album to teach Latin rhythms, Understanding Latin Rhythms, Vol. I—which was coproduced by José Mangual Jr.—he was part of it. This was an important project, as it taught these rhythms to generations of aspiring percussionists around the world.
Don Byron (jazz clarinetist and composer)
The band Six Musicians evolved from groups I worked with in Boston in the '80s. The writing of the first album centered on the vibe between Edsel Gomez and me. All of that changed when Milton joined the group. Advertisement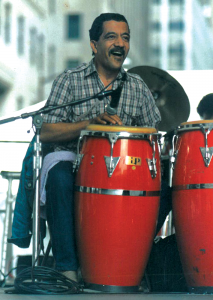 Don Alias introduced me to Milton, when I had to make changes to the lineup of the original group. Don loved Milton, and his recommendation was a great gift. I thought, The guy who played with Willie Colón is gonna play with me? But he was so sweet, selfless, and such a joy to be around. Soon the focus for all of our playing and my writing was Milton, and we became a real band because we simply loved being together. The second Six Musicians record [You Are #6, Blue Note] is all Milton; it features his playing, and the tunes are heavily influenced by his teaching and playing.
I made an effort to study shekere and batá with Milton at his home in the Bronx, and I still have a beautiful instrument he picked for me. He was a kind and generous man, and one of my greatest teachers. It was a privilege having him support and improvisationally disassemble the structures I wrote. He was my all-time favorite soloist in any of my bands: deeply conceptual, economical, deceptive, and melodic to a fault. But with Milton it all starts with sound. Nobody sounded like him. I can hardly believe he is gone.
Cascadu (independent artist, educator)
I first saw Milton play during those infamous Monday nights at the Village Gate in the mid-'80s. He swung those tumbaos with incredible dexterity, making it all seem so simple. When I finally got to meet him, I understood the magnitude and depth of his playing, for that was the music, and that was the man. I am forever changed by our few encounters, and I'm eternally grateful for what he shared during his walk upon the earth. A great musician, a great human being! Advertisement
Wilson "Chembo" Corniel (independent artist, educator)
I first met Milton at the Nuyorican [Poets Cafe] around 1974, when they had weekly jams there. I used to go to see Andy Gonzalez, Manny Oquendo, Papo Vazquez, Gene Golden, Frankie Rodriguez, Jerry González, and many up-and-coming musicians who are now on the forefront of our music. Milton was always kind and made time to talk drumming and music with me. We later performed together in a theater group led by Felix Romero called Teatro Otra Cosa. We played lots of folkloric music. Milton was one of my inspirations from the New York scene and was one of the first to bring batá drumming to the forefront of popular music. He will be deeply missed by all his colleagues, family, and friends.
Victor Rendón (independent artist, Bronx Conexión Latin-Jazz Big Band, adjunct at Lehman College)
In my younger days, having seen his name and photo on record albums and the LP catalog, Milton was an idol to me. So naturally, years later, when I met him at a recording session, I was in awe. The first thing that I noticed was his easygoing and kind nature. On top of that, it was so easy to play with him. When I was playing with a band one time, he came and sat in. I immediately noticed that the time and feel of the band just sort of gravitated toward his basic conga tumbao, locking and playing in the pocket. He did this without forcing it, in a very natural manner, almost like magic. That's when I realized he had something special.