JazzCity Presents a Chicago Celebration of Elvin Jones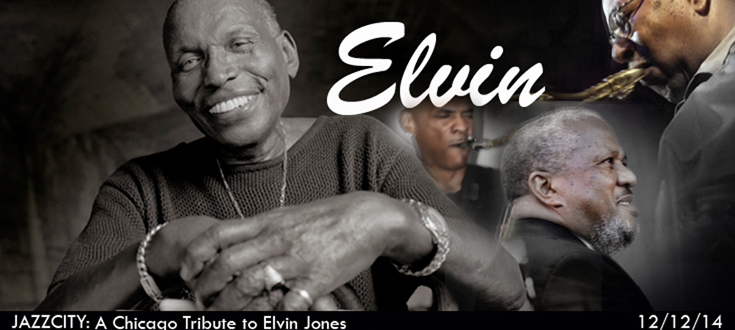 On December 12, at 7pm, a gathering of Chicago greats will come together to pay tribute to drummer Elvin Jones. The final performance in the 2014 JazzCity schedule is free and open to the public and will take place at Austin Town Hall Park on 5610 W. Lake Street.
As was the case with everywhere he played, super-drummer Elvin Jones left behind an army of admirers and co-conspirators in Chicago. When he brought in his Jazz Machine, you could depend on there being a lot of musicians in the audience. The luckiest of the locals got to play with him; favored players included pianist Willie Pickens and saxophonists Ari Brown and Dwayne Armstrong, who joined Jones in various editions of his band.
Being a distinguished drummer himself, one of Milwaukee's greatest gifts to the Windy City, Ernie Adams, was content to take in Jones' wizardry from the audience. Ten years after Elvin's passing, he describes those shows as if they took place yesterday. "It was like this wall of thunder coming at you," he said. "And that African rhythm he brought to the music, that 12/8 feel, oh man, the first time I heard him on record he scared me. He was so in-your-face. There was just so much happening!" Advertisement
For this year's final JazzCity concert, a group of Elvin acolytes, including Pickens, Brown, Armstrong, Adams, and bassist Larry Gray, will stage a happening of their own in tribute to the drummer. Expect some high-wire maneuvers through Coltrane classics and more.
One can only imagine how thrilled Ari was to be asked to join the Jazz Machine, and not only because of the opportunity to play with Jones. As attuned as Chicago jazz fans were to this saxophonist's greatness, he hadn't had much exposure outside of the Windy City when he went on tour with Elvin. That changed in a hurry after crowds on both coasts and in Europe were exposed to Brown's torrential solos.
Pickens also reaped some overdue national attention with the Jazz Machine; he had been a best-kept Chicago secret since his days accompanying the great Eddie Harris. "Being around Willie, everyone stands up straighter," Adams said, laughing. "With Ari, it's like your distinguished uncle just walked in." Advertisement
And then there is the prodigious Armstrong, a native of Mississippi who has toured and/or recorded with Max Roach, Sam Rivers, Sonny Stitt, Von Freeman, and Bob Marley. The mighty Elvin presided over some memorable moments in Chicago and on December 12, the city will proudly and thankfully answer back.
About JazzCity
JazzCity is a free concert series initiated in 1997 by the Jazz Institute of Chicago in collaboration with the Chicago Park District, now in its seventeenth season of bringing people together from across the city to hear, appreciate, and enjoy Chicago's top jazz musicians. JazzCity is sponsored by WDCB 90.9 FM and WHPK 88.5 FM Radio and supported by the National Endowment for the Arts.
About the Jazz Institute of Chicago
For forty-five years, the Jazz Institute of Chicago has promoted and nurtured jazz in Chicago by providing jazz education, developing and supporting musicians, building audiences and fostering a thriving jazz scene. For more information on its programs, visit www.jazzinchicago.org. Advertisement