Drummer Blog: Echosmith's Graham Sierota Talks <em>The Tonight Show</em>, "You Ought to Know??? Concert, and HALO Awards
Hello! I recently had my craziest week yet. All my friends were in a classroom while I was in New York City during the craziest week of my band's life. My name is Graham, and I'm fifteen years old and having a lot of fun adventures with my band, Echosmith.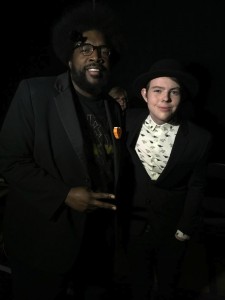 Everyone at our label and our managers said we would be running around like never before. And guess what? They were right. We played a show in Washington, DC and drove all night on our tour bus to get to New York City. We left at 1am after we did the fan line and tried to sleep, but everyone was so excited because first thing that morning we were playing on one my favorite shows, The Tonight Show Starring Jimmy Fallon. We had to sound check around 10 am but had to get up at 8 am to get ready and make sure our car ride there could make it in time. So, as soon as we get there all the gear is set up and some of the guys from the Roots are walking around and it just felt so exciting! Everyone there also kept telling us that Jimmy was playing and singing our songs a lot the past few weeks.
We sound checked and I played a really cool 1964 Ludwig kit with my Istanbul Mehmet cymbals and it sounded great. Afterward, we had to race to VH1 to play for the "You Oughta Know" concert with Sam Smith, American Authors, and Tove Lo. We had very little time even to get there and everyone felt nervous that we'd miss our sound check. Well, we made it like four minutes late and ran in to get passes and prepare. Advertisement
When I got there I had another vintage Ludwig drumset waiting for me, and again, it sounded amazing. I always play a 6.5×14 Black Beauty tuned low. The stage was massive and I felt nervous. We sound checked and then had to sit around for other people to sound check and then we did a run through, but I also had a teacher there waiting for me to do my schoolwork. So while everyone was eating and hanging out I went off in some random room with my teacher to do math.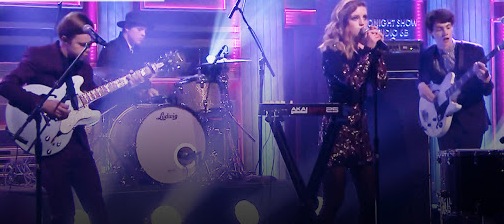 It seemed to take forever but we finished and we had twenty-five minutes to get back to shoot The Tonight Show. We raced out of there and made it running into The Tonight Show. A few minutes after, we were hanging out, and Jimmy Fallon came to our dressing room to talk to us. He was really funny and easy to talk to. He kept saying he loved our song "Cool Kids" and we just couldn't believe it. He stayed hanging out for fifteen to twenty minutes and we all kept laughing and having fun.
We said a quick prayer and then got on stage as Jimmy announced us. I was also feeling pretty nervous thinking that a lot of people would see us. We were playing the song and it was going really good but at the end of the bridge my stick, as I was hitting the snare, broke off at the top. Early in I was always taught to never stop a song, so no matter what I was going to keep going and hit harder. I couldn't stop and grab a stick cause the beat doesn't stop after the bridge. Luckily it all still sounded great. Jimmy came over and said thanks to everyone and it felt really good. Advertisement
Then we had to race back over to play for the VH1 "You Oughta Know" show, so no time to waste. I was kind of bummed cause Questlove, who is a great drummer, came out, but we couldn't stay to meet him.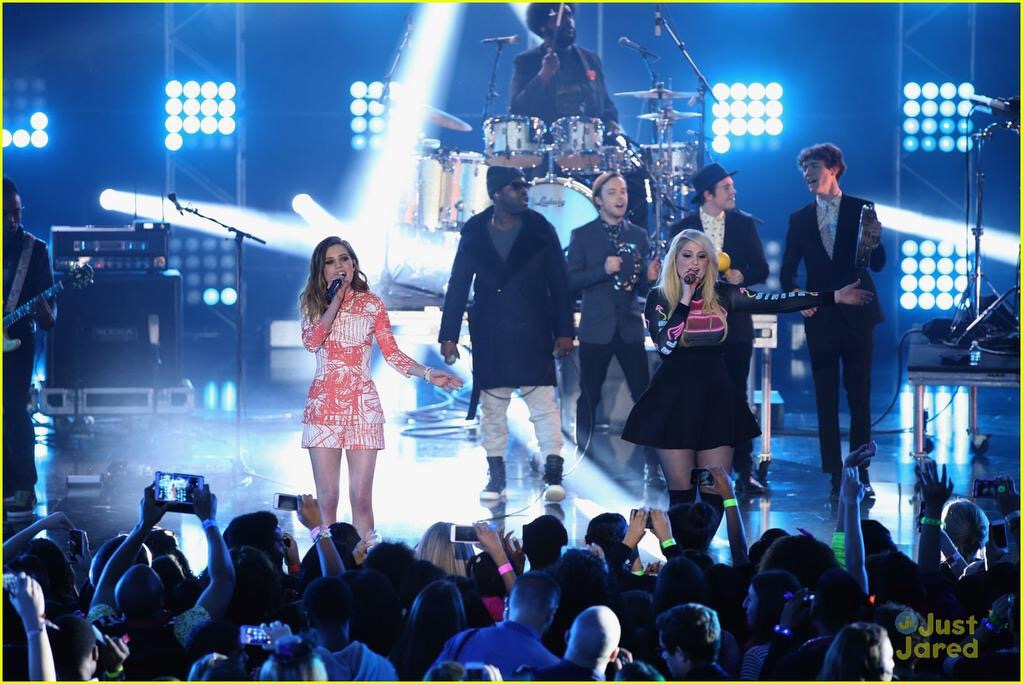 We raced back to VH1 and an hour later we were announced and now a few thousand people were there and it was live TV. All my nervousness was at the highest now. One thing I really like is that my brothers and sister are in the band and we all really help each other, and Sydney gave me a huge hug and said I'm her favorite drummer and I felt more chill. They announced us and the stage turned in a circle and we were on. It felt great and it went perfectly.
Now we were all about hanging out with our buddies in the other bands and eating great food. It felt great to be done, too. I could only hang out about an hour when they asked me to leave, not the whole band, just me because anyone my age can't be working past a certain amount of hours. So I decided to go see a movie with our A and R guy. Advertisement
The next day we had a rehearsal planned for Nickelodeon's HALO Awards. We had to be there at 11:30 for a sound check. The show was at a basketball pier and it was one of the coolest sets I've ever seen. This day, I had the exact model vintage Ludwig's that Ringo Starr played with the Beatles. When we played the actual show the next day, we got asked to jam the end of the show with the Roots and Meghan Trainor ("All About the Bass").
Earlier in the week I was bummed we didn't get to meet Questlove but now we were on stage with him. I was playing maracas and having so much fun. The next day we played a sold out show at NYC's Webster Hall. What was crazy was just at the beginning of this year we were the first band of four bands at the smallest room downstairs, and now upstairs we sold it out by ourselves. It was a really cool way to end the craziest week we've ever had. I'm happy and thankful that we get to play our music for everyone. Thanks for reading!
For more on Echosmith visit www.echosmith.com, and www.facebook.com/Echosmith. To watch the video for "Cool Kids" click here www.echosmith.com/video.