Sparkplug Online Instrument, Gear, and Space Rental Opens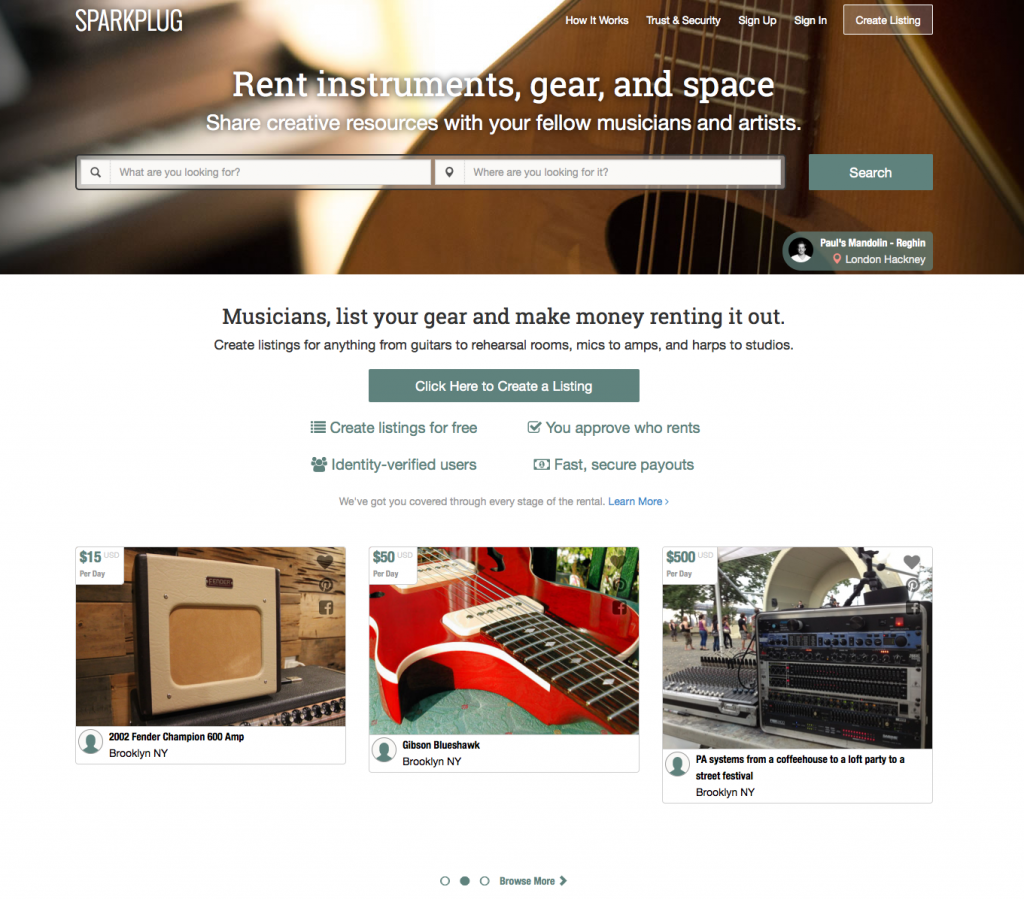 The founders of New York City–based tech startup Sparkplug have launched what they're calling the first online community marketplace specifically designed for musicians and artists to share their creative tools and resources. Casting itself as "the Airbnb of the instrument/gear rental world," Sparkplug's mission is to connect musicians in a secure online community marketplace to efficiently and affordably share their creative tools. Musicians can rent out their instruments, gear, and space or rent from others.
"Drummers know better than anyone the difficulties of transporting gear, whether on the road or down the street," says Jennifer Newman Sharpe, who, along with Julia Wilde, Charles Ridley, and Jonathan Eshak, is a cofounder of Sparkplug. "We've discovered that many venues don't supply backline at all, creating a need for drummers to supply their own kits, whether by renting from an expensive backline company, hauling their own gear in a fifteen-passenger van, or bartering with the opening act. Sparkplug is an especially useful tool for these players; we connect them with rental options so that they can easily and cost-effectively source needs from other drummers in the area, putting money directly in the hands of local musicians.
"On the other side of the process," Sharpe continues, "drummers list their equipment on Sparkplug and earn money between sessions or shows, or even when they're out on the road but their kit(s) remain home due to difficult transport. In many ways, drummers are the ideal Sparkplug member. The site was created to solve the cumbersome transport problems drummers encounter on a daily basis." Advertisement
Over a third of Sparkplug's percussion listings are acoustic drumsets, Sharpe adds, ranging from a 1950s Slingerland three-piece set to a Canopus R.F.M. jazz kit. Beyond kits, Sparkplug offers an assortment of electronic drums and a wide variety of auxiliary, orchestral percussion, and world percussion. Check out Sparkplug at sparkplug.it.