Drummer Blog: Cirque Du Soleil's Amaluna's Didi Negron on Living Your Dream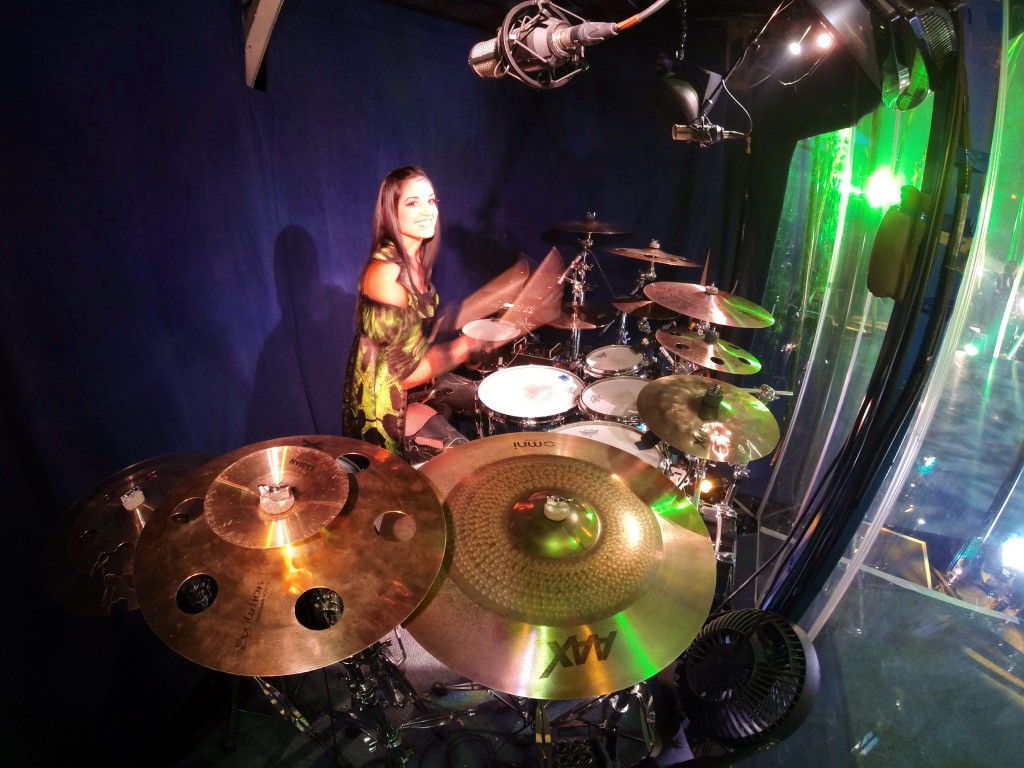 As a traveling musician in the traditional big top, I am able to implement my strong music theory background and improvisational skills while providing accompaniment and action on stage as my role of the "Goddess of Rhythm."
It's truly an epic experience to have toured Canada and halfway through the US, and I'm looking forward to the European tour kicking off April 2015. I have met so many great people on and off the stage. I have traveled with many different people who represent different cultures. This world truly has so much to offer.
I want to encourage any musician that wakes up everyday feeling like they have to settle for less than what they know they are capable of. Music has been my passion. People will try to convince you that you won't be able to do things, but that is most likely coming out of someone who lives in a mediocre state of mentality. I encourage you all to dare to live the dream, to go out and try out for the bands you want to play for, sign-up for contests and competitions, talk to everyone, and don't be shy. The world waits to hear what you have to offer! Even if you don't "win," experience is everything. You did what most people wouldn't dare to do, and chances are you might have the best time of your life doing so. Advertisement
Over the past few years, I have participated in numerous drumming events and contests, such as the Latin Percussion Coverband, where I was blessed to have won and granted the opportunity to play at the NAMM Show in 2010. In 2011, I was the King of Prussia Sam Ash's V-Drum Roland contest winner. As one of the top-six drummers in the nation, I was flown to Las Vegas, Nevada as a finalist for the national contest. After participating in similar competitions, gigging in nearby states, and working with phenomenal musicians and mentors like Karl Perazzo, Chris Coleman, Bob Kaufman, Kim Plainfield, Terri Lynne Carrington, and Dave DiCenso, I knew I wanted to work towards a career as a professional musician. It has always been my hope that through my unbridled passion for music that, in that same way I was influenced by Dave Weckl, Vinnie Colaiuta, Sheila E, Chris Coleman, Buddy Rich, Jojo Mayer, Aaron Spears, and many more, I also could inspire others.
In 2011, I had the honor to work for Roland as both a product specialist and a mentor for the Girl Scouts Rock Tour. (Giving girls from ages eight to fourteen hands-on experiences playing popular music with modern instruments.)
In a nutshell, wake up and live your dream. Life is too short to watch everyone else doing what you were created for. All these moments ushered me to continue to grow and expand the horizons, leading me to where I am today. Advertisement
I am truly blessed to wake up every day and look forward to my workdays and getting to do what I love. Thanks to all who believe in my dream and are extremely supportive. A big thanks to all my endorsers: Vater, Sabian, Gretsch, Roland, Latin Percussion, and Kickport.
Check out my YouTube channel, and look for my upcoming shows near you. Don't hesitate to get in touch via www.didinegron.com.
Check out "A Day At Work" video below.