Midnight Special DVDs Now Available!
The idea for The Midnight Special, which ran on NBC from 1972 to 1981, came to creator Burt Sugarman after realizing the need for late-night programming after the airing of The Tonight Show each evening.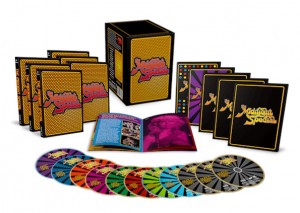 The Midnight Special's lineup reflected the show's commitment not only to rock 'n' roll, but also to mirroring the Top 40 melting pot of the '70s, including genres such as folk, blues, R&B, soul, country, and pop. For much of the run, the show was presided over by gravelly voiced DJ Wolfman Jack, who was recruited as a permanent announcer and made his debut in the second episode. Jack would go on to become the living symbol of the show and a powerful draw for performers who were more than happy to share the stage with him.
Artists featured on The Midnight Special include Aerosmith, Alice Cooper, the Bee Gees, Earth, Wind and Fire, the Electric Light Orchestra, Fleetwood Mac, Heart, KC and the Sunshine Band, LaBelle, Linda Ronstadt, Marvin Gaye, the Captain and Tennille, Peter Frampton, REO Speedwagon, Steely Dan, the Doobie Brothers, Tom Petty and the Heartbreakers, the Village People, and Eddie Money, who calls The Midnight Special one of the greatest rock 'n' roll shows in history. Advertisement
The series is now available from StarVista Entertainment/Time Life in three configurations: individual DVDs, which can be purchased in stores; a six-DVD set available from Amazon that includes nearly a hundred complete live performances; and an eleven-DVD Superfan Collector's Edition available from Time Life.
https://www.youtube.com/watch?v=z1KOt1K6W9w