Sarah Hagan to Head Zildjian Artist Relations Worldwide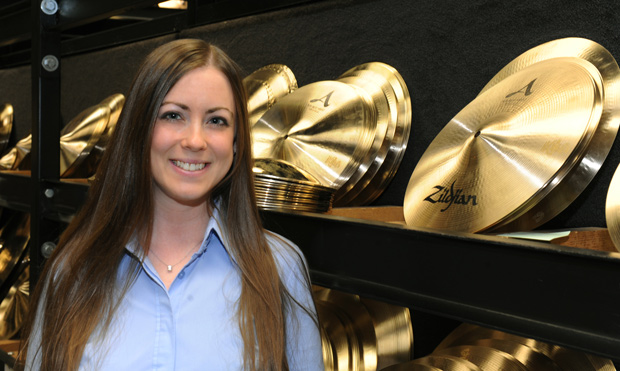 The Zildjian Company is proud to announce that Sarah Hagan has been promoted to director of artist relations–worldwide effective immediately. Sarah assumes responsibility for planning and executing Zildjian's global artist relations program based out of its headquarters in Norwell, MA. Sarah will lead the AR team, continuing to build upon Zildjian's long history of helping artists find their unique sound.
"Zildjian has a long tradition of working closely with artists, which began with my grandfather. So it's important that we entrust artist relations to someone with a deep commitment to drummers and the drumming community. Sarah has a proven ability to connect with drummers across all musical genres. Therefore it gives me great pleasure to appoint Sarah to director of artist relations–worldwide," said CEO Craigie Zildjian.
A drummer and former teacher, Hagan joined Zildjian as a marketing and events coordinator and was promoted to artist relations manager for the east coast. In her ten years with Zildjian, Hagan has personally selected cymbals for top drumming luminaries such as Roy Haynes, Steve Gadd, and Carter Beauford and has managed clinic tours with greats such as Dennis Chambers, Gavin Harrison, and Marco Minnemann. She has been instrumental in building Zildjian's roster of artists representing a wide range of musical styles, including her recent signings of Nathan Followill (Kings of Leon), Elaine Bradley (Neon Trees), Matt Billingslea (Taylor Swift), Rian Dawson (All Time Low), Matt Greiner (August Burns Red), and Mark Colenburg (Robert Glasper). Advertisement
As a member of Zildjian's Sound Team, Sarah has worked closely with R&D and marketing on the successful development and launch of the redesigned A series and the new Kerope line. Sarah currently represents Zildjian on the Percussion Marketing Council.