Premier Appoints Steve White to Head of Education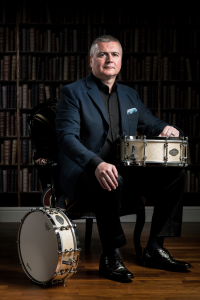 Premier is pleased to announce the appointment of Steve White as its new head of education. In addition to this primary role, Steve will be joining Premier's product development team, bringing a wealth of experience and knowledge to the company.
Steve is one of the industry's most respected drummers. He is most recognized for his long-standing relationship with Paul Weller, beginning with the Style Council and continuing on with Weller's solo projects, including the acclaimed albums Stanley Road and Wild Wood.
As a session musician, White has played with numerous legends of the British music scene, including the Who, Oasis, Ian Dury, and Jon Lord. More recently, Steve has focused on his own funk/jazz trio of Damon Minchella (bass) and Justin Shearn (keys). Advertisement
Steve returns to Premier having previously been involved with the brand as an artist and product consultant, which led to the development and introduction of the Modern Classic snare series and the Premier Series Elite drumset line.
"It is both an honor and a privilege to be asked to be part of the new team that is now running Premier," said Steve. "As a musician, I have always strived for progress and improvement, and this new opportunity enables me to push and challenge myself in a way that has filled me with enthusiasm and excitement for the future." In leaving his current position to join Premier, Steve added "I would also like to say a massive thank you to my friends at Mapex for the years we have worked together. I wish them the very best for the future. As for me, I am raring to go and glad to be home."
Vikki George, Premier's general manager, says, "For many years Premier was influential in the educational sector, supporting a host of schools and teaching facilities. Appointing Steve to head our new program creates an exciting fresh era for Premier that will see the brand return to the forefront of a sector that is incredibly important—education." Advertisement