Drumming For SickKids Hospital Benefit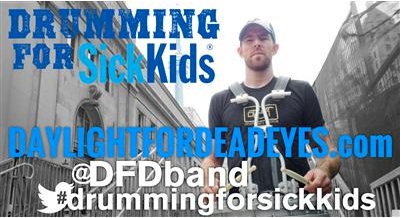 Ontario, Canada based band Daylight For Deadeyes' drummer Chris Gormley, will be drumming across Toronto all summer long to raise money for SickKids Hospital, his official SickKids Foundation fundraising page can be seen here.
The first event will be June 8th where Chris will "march" the 5k Bread and Honey Race in Streetsville, Ontario. Following that, starting June 14th #DrummingforSickKids will happen every Saturday all summer long! Donate or come out and support!
To view the YouTube trailer, watch it now. www.youtube.com/
To find out more about the band, visit: drummingfordeadeyes.com.