Rachel Trachtenburg of the Prettiots and Larry & the Babes
Hi MD readers. My name is Rachel Trachtenburg, and I'm from New York City. I have been playing the drums since the age of six.
It all started in Seattle, Washington, where I was born. In the late '90s, my dad, Jason, had a band called the Terriers. The band's drummer decided to opt out of a show in order to go see a movie with his uncle. My dad realized that it might be time for a new drummer who was more reliable and available. Although I was only six years old, there was a drum school up the street (Seattle Drum School) that accepted students as young as four. Steve Smith, the owner of the Drum School, became my instructor. He's still one of the coolest dudes in my book.
At the same time, my parents had started the Trachtenburg Family Slideshow Players, and I became the drummer. We performed nonstop all over Seattle in 2000 and 2001, and then we took road trips to Portland, OR for NXNW and Austin, TX for SXSW.
In 2002, we moved to New York City to push our family band further and expose our act to a larger audience. We made a lot of fans and friends and appeared on Conan O'Brien's show. We toured non-stop from 2003 to 2008, performing residencies at the Edinburgh Festival Fringe, playing every city in England, and three runs at the Soho Theatre in London. We crisscrossed the United States on fifteen tours and met a lot of fun and interesting people. My childhood was mostly spent on the road playing in different cities each night. Advertisement
After the family band had run its course, I started playing ukulele and formed my own all-girl band, called SUPERCUTE!. This became my full-time project for about three years.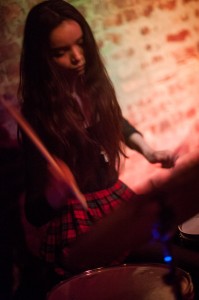 Since moving on from SUPERCUTE!, I've been spending time playing the drums again. I grew up behind a kit and have come to realize how special my relationship with drumming is. The drummer can really make a band. I'm inspired by Janet Weiss from Quasi. She is a total god to me. And John Bonham, of course!
I'm playing drums in two bands right now, along with my new solo music. The two bands I'm currently in are very different from each other, and that has been a blast. One is an all-girl band called the Prettiots, fronted by Kay Goldberg on ukulele and Lulu Prat on bass and backing vocals. Our sound is pretty much indie-pop—very fun, catchy, and girly. My drum parts are striped down and very minimal. A lot of the beats build as the song goes on and slowly become fuller. For me, it's all about keeping the rhythm dynamic and clear at the same time.
The second band is Larry & the Babes. It's a garage rock band—very raw and rocking. After each set, I'm always dripping in sweat. Playing that hard is one of the greatest releases. Music is everything to me. Thanks for reading! Advertisement
For more on the Prettiots, visit www.theprettiots.com.