Kidney Transplant Fundraiser Set for Tower of Power Bassist Francis Rocco Prestia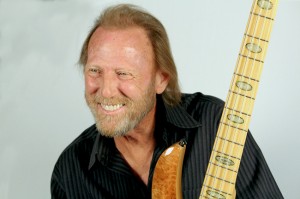 In need of a lifesaving kidney transplant, legendary Tower of Power bassist Francis Rocco Prestia and his friends will hold a Spare Parts dance party and concert fundraiser on Sunday March 30, 2014 at the Arts at the Armory, in Somerville, Massachusetts. Prestia needs a kidney transplant but medical bills and related expenses far exceed his coverage and ability to pay. All are invited to come and help out.
Prestia is the legendary bass guitarist for the renowned soul and funk band Tower of Power. Rocco is sixty-three years old, and with a kidney transplant he can get back to what he loves: playing bass with Tower of Power. He is generally acknowledged as the originator of the finger-style funk method of bass playing and is widely regarded as one of the greatest bassists of all time.
The fundraising event will assist Prestia with much needed medical funding for his impending kidney transplant. Rocco underwent a liver transplant and open-heart surgery within the past ten years and is currently not performing and touring with Tower of Power. Advertisement
The Berklee College of Music's Tower of Power Ensemble, led by Ken Zambello, will perform with Tower of Power alumnus and Saturday Night Live music director, Lenny Pickett. Other special guests will also perform.
Rocco has also registered on MatchingDonors.com looking for living altruistic kidney donors and is being contacted by many potential donors. If you would like to see if you are a potential match to donate a kidney to Rocco, go to http://www.matchingdonors.com/life/Donor/index.cfm?page=position-description&JobID=3236 to register.
The fundraiser will take place Sunday, March 30, 2014, from 3pm to 7pm, at the Arts at the Armory, 191 Highland Avenue, Somerville, MA 02143. Tickets are $30 in advance at www.roccoprestia.eventbrite.com or $35 at the door. Advertisement
For more fundraiser information, visit https://www.dropbox.com/s/wlz6kj6clp7o1kl/RoccoPrestia.pdf.