Sunny Leejean of Activator and the Meaning of Life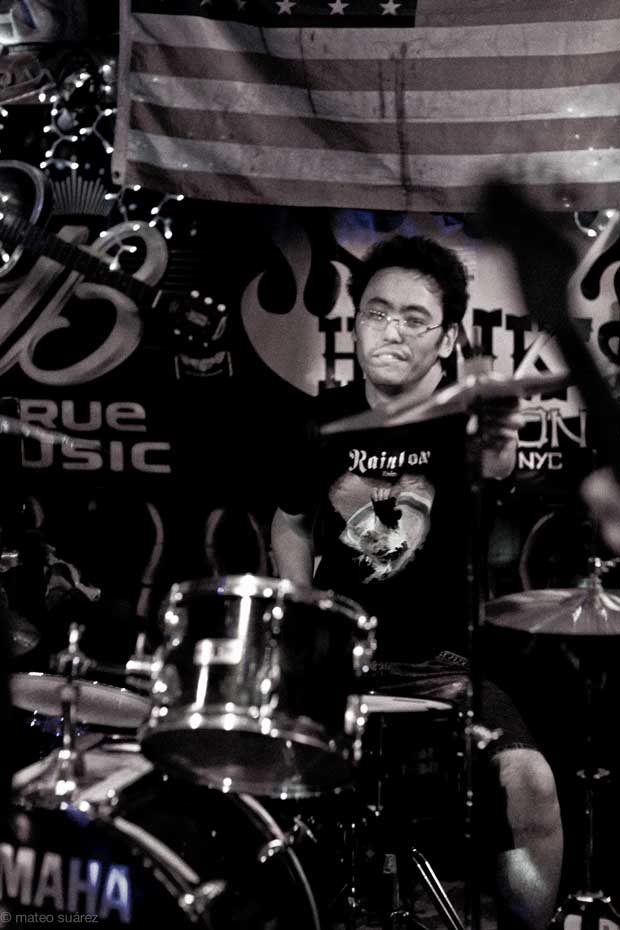 Greetings MD readers and friends. My name is Sanal "Sunny" Leejean. I play drums in Activator and also in the Meaning of Life. It's a big honor to be featured here!
Activator's self-titled debut was released in September 2013. On the record, I used my PDP 3.5×13 steel piccolo snare, Paiste 2002 cymbals, Pearl pedals, Gibraltar self-aligning beaters, Remo drumheads, Promark drumsticks, and a very old Slingerland drumkit that belongs to Night Owl Studios in NYC, where we recorded the drums.
My search for a drum sound has been an active one. I've played everything from an old-school "tube" Tama from the late-'80s to fusion-size Pearl, Yamaha, and PDP drumkits. For many years, I played deep snares: 6.5×14 or 6×14. These days, I use several drums, including a PDP 805 6×13 birch snare, a Yamaha 6.5×14 stainless steel, and a PDP 3.5×13 stainless steel, which is my main snare. For a while, I experimented with clear and coated drumheads. I eventually returned to my original setup, which comprises Remo Clear Pinstripes and Clear Ambassadors on the toms, and Clear Controlled Sound or Coated Ambassadors snare batters with Diplomat bottoms. I've used Pearl pedals for many years and never had any issues with them. They feel extremely comfortable and deliver perfectly dynamic action. Right now, I'm using the Demonator, which is a hybrid of the Demon Drive and Eliminator pedals.
I've been playing drums since I was six years old. I grew up in a musical family and spent the majority of my early days at my dad's recording studio in Elista, Kalmyk Republic and Russian Federation. I was born and grew up in Russia and moved to the US and settled in NYC when I was twenty-four. I've always listened to a very diverse range of musical genres, from jazz-rock and fusion to folk, hard rock, and heavy metal. My heaviest influences would be Ian Paice, Tommy Lee, Nicko McBrain, Roger Taylor, Brad Wilk, Mike Portnoy, and Dave Lombardo. Advertisement
I have set goals for myself throughout the years, from practicing and playing through albums like Blood Sugar Sex Magik and Seventh Son of a Seventh Son to complex pieces like Dream Theater's "Erotomania" and "Metropolis Part 1: The Miracle and The Sleeper" or Meshuggah's "Humiliative." Today, I enjoy drummers such as Matt Halpern (Periphery), Daniel Erlandsson (Arch Enemy), and Alex Rudinger (the Faceless).
I moved to the US in 2008 and joined Activator in autumn 2009. I describe our sound as classic hardcore/thrash metal with a touch of late-'80s/early-'90s spirit. Our debut album is available for streaming and can be purchased online at www.activatornyc.com.
Sunny Leejean is also recording an EP with alternative act the Meaning of Life (www.themeaningoflife.bandcamp.com).