Drum Daze 2014 Columbus, Ohio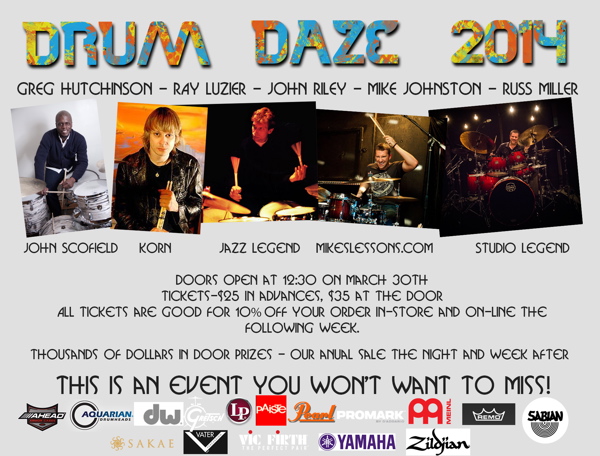 Modern Drummer Publications and Columbus Pro Percussion are teaming up to create one amazing drumming day.
On Sunday, March 30th, some of the biggest names in drumming will come together for an afternoon you won't forget. But what is Drum Daze? Drum Daze features clinics and performances from talented and well-known drummers and percussionists of all different backgrounds. Thousands of dollars in prizes will be given away throughout the day. An autograph session will take place in the lobby after the event. Appearing this year are:
Mike Johnston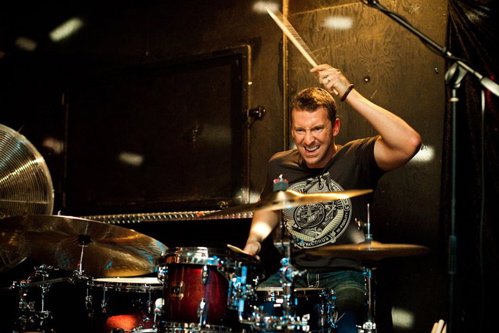 It's no secret that drumming education has undergone some major changes, as more and more instructors are beginning to offer online lessons in addition to traditional one-on-one private instruction in local drum shops and music schools. Mike Johnston, creator of MikesLessons.com, was one of the first teachers to capitalize on the wide-reaching power of the Internet, after videos he uploaded to YouTube for his private students went viral and gained more than a million views. Seeing that unexpected response as a sign of demand for high-quality educational content online, Johnston created a website where students could purchase and download prerecorded video lessons and watch them on their computers or iPods. Two years later, in 2008, Mike went space age and launched the world's first live-stream drum-lesson service, which remains the preeminent one of its kind.
Now with more than 9,000 MikesLessons.com students and nearly 70,000 YouTube subscribers, plus thousands of followers on Facebook and Twitter, Johnston is undeniably one of the most watched and devotedly supported personalities in modern drumming education. Yet despite all of his success, he remains incredibly humble and gracious, and his passionate, sharing spirit continues to permeate every lesson he teaches, every clinic he conducts, and every video he records. Advertisement
Ray Luzier
Ray Luzier didn't jump from the farm to the front lines of stardom overnight. In fact, he's spent the past twenty-five years tirelessly working to achieve his goals. A student turned instructor at the world-renowned Musicians Institute in Hollywood, Luzier diligently sharpened his playing and networking skills for ten long years, even when his teaching schedule grew to become full time. Eventually he landed a gig with Ozzy Osbourne guitarist Jake E. Lee, the kickoff to a journeyman career that would feature eight years touring and recording with Van Halen frontman David Lee Roth, a stint with the pop-rock supergroup Army of Anyone, and six years and counting with the alternative-metal gods Korn.
Luzier's popularity among drummers stems not just from the ability to shred with superhuman control, but to do so with an appealingly human feel and a veteran's sense of playing the right thing at the right time. It's telling that although he's one of the most popular heavy drummers on the planet, Ray doesn't label himself as such, preferring to focus his attention on the challenges of owning it no matter what the musical situation.
John Riley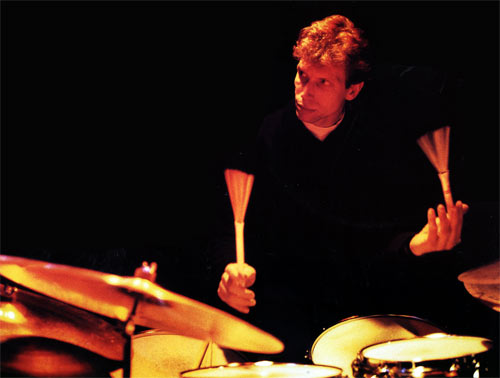 John Riley is among an elite group of jazz drumming performers and educators, recording and playing with greats including Dizzy Gillespie, Miles Davis, John Scofield, Mike Stern, the Vanguard Jazz Orchestra, and John Patitucci, and authoring the highly regarded books The Art of Bop Drumming, Beyond Bop Drumming, and The Jazz Drummer's Workshop.
After early lessons with the local teacher Tom Sicola, Riley began playing in rock bands and heard his first jazz recordings—the soundtrack to The Gene Krupa Story and Max Roach's Conversation. In 1971 Riley began studying with famed Dave Brubeck Quartet drummer Joe Morello and later attended the University of North Texas, where he played, toured, and recorded with the famed One O'Clock Lab Band. In 1976 Riley moved to New York City, and after a run with the Woody Herman Band began his career as one of the most sought-after freelancers in jazz. Advertisement
John will be performing with the Ohio State Jazz Ensemble.
Gregory Hutchinson
"Hutch" might just be the jazz drummer's jazz drummer—historically astute and futuristically minded, with the kind of technique, soul, and sophistication that today's most important artists treasure. A veteran of bands led by Ray Brown, Betty Carter, Eric Reed, Dianne Reeves, Joshua Redman, Joe Henderson, Roy Hargrove, and John Scofield, Hutchinson extends the tradition of the greats of the '50s and '60s, with remarkable clarity, hard-charging swing, and a massive brush sound. And he can drive a big band, a trio, and a simmering ballads-only ensemble to equal, storm-swelling heights. On any given night with any given set of musicians, Hutchinson performs solos with multiple layers, as if he's telling more than one story at a time. And he has a deep understanding of tradition, drilled into him by the jazz masters Ray Brown and Betty Carter and also by his drumset teachers Kenny Washington, Marvin "Smitty" Smith, Justin DiCioccio, and Wade Barnes. Substantial energy reserves aid and abet his extreme articulation on the drums, but Hutch also plays with subtlety, finesse, and sensitivity, as needed.
Hutchinson's experience and technique make him one of the most exciting musicians to watch and hear. He has the creative power to not only nurture but challenge the very art of drumming. According to his bio on GregoryHutchinson.com, Dianne Reeves describes him as "pure genius"; Gary Giddins calls his drum work "elegant" and more "like dancing"; and Joshua Redman describes him as "inspired." In the same bio Gregory says, "I want to sing on the drums the way [Charlie Parker] sang on the horn." If history is any indication, Hutch will indeed continue to be a formidable presence in the musical community. He is a superbly hands-on musician, and his generous spirit matches his God-given talents.
Russ Miller
Russ Miller is a multiplatinum recording artist who has played on multiple Grammy-winning recordings with combined sales of more than 26 million copies. His versatility has led him to work with an incredible list of more than fifty international artists, from legends like Ray Charles, the Fifth Dimension, Natalie Cole, Tina Turner, and Bobby Caldwell to current stars such as Nelly Furtado, Hilary Duff, Andrea Bocelli, Daniel Bedingfield, and Meredith Brooks. Advertisement
As a star of the Los Angeles studio scene, Miller has been recognized by the Modern Drummer magazine Readers Poll as one of the the top studio drummers, including in 2010, when he was voted the number-two session drummer. He has performed on more than 250 albums, including number-one Billboard hits like Furtado's Whoa Nelly and Duff's Metamorphosis. Russ has also recorded for many TV shows and international movies, including Chicken Little, Fracture, Lakeview Terrace, Resident Evil Apocalypse, and the Boondock Saints series. Along with his many sideman recording credits, he has been a staple in television house bands, including the mentoring-sessions group on American Idol. Miller has three critically acclaimed solo albums as well, Cymbalism, Arrival, and the Arrival Live concert DVD/CD.
Russ has authored two books, The Drum Set Crash Course and Transitions, and has made three videos, Arrival: Behind the Glass from Hudson Music and The Drum Set Crash Course and The Drum Set Crash Course TuningEdition from Alfred Publications. His solo projects have been chosen as the number-one educational books and videos in Modern Drummer's Readers Poll (2001–2004).
March 30th, 2014 at the Capital Theater's Vern Riffe Center in Columbus, Ohio – Be there! Tickets are only $25.00 and are available online here.