Travis Barker Presents the 7th Annual Musink Tattoo and Music Festival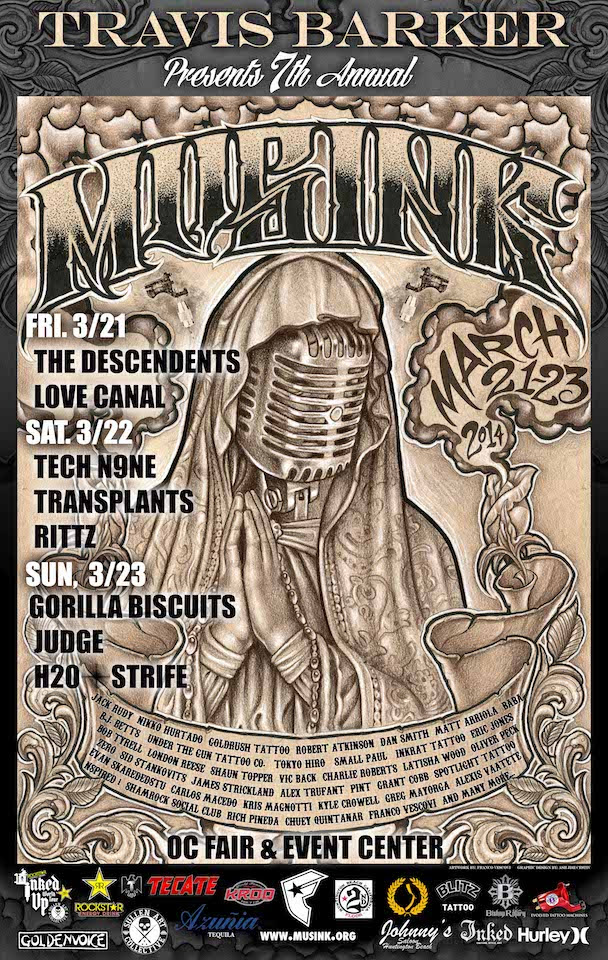 Presented by Travis Barker (Blink-182/Transplants), Southern California's most anticipated tattoo and music festival Musink will celebrate its 7th year at the OC Fair and Events Center in Costa Mesa, CA on March 21–23. This year's lineup will include performances from the Descendents, Tech N9ne, Transplants, Gorilla Biscuits, Love Canal, Judge, Strife, Rittz, and H20 and will host over 300 renowned tattoo artists from around the world including Jack Rudy, Dan Smith, Tokyo Hiro, Nikko Hurtado, Small Paul, and Oliver Peck, among many others. Tickets go on sale Friday, March 21, at 10 am PT at musink.frontgatetickets.com.
"I'm really proud to be a part of an event like Musink," says Travis Barker. "It encompasses everything I love, from tattoos to music and cars. Stoked to have so many great bands and tattoo artists involved."
Each year, thousands of fans from across the country and around the world flock to Orange County for the annual celebration of tattoo and music culture. Set in the Southern California hotbed for tattoos and punk rock, Musink is consistently one of the region's biggest and most successful festivals with memorable past performances from bands like Bad Religion, Pennywise, Tiger Army, Alkaline Trio, Against Me!, New Found Glory, Suicidal Tendencies, Thrice, the Used, the Cult, NOFX, Danzig, and Reverend Horton Heat. Advertisement
2014 will prove to be bigger than ever with headlining performances from punk rock legends the Descendents, rapper Tech N9ne, punk group Transplants (featuring Tim Armstrong from Rancid and Travis Barker of Blink-182) and hardcore pioneers, the Gorilla Biscuits. Across from the stage in the hall next door fans will find hundreds of world class tattoo artists and tattoo shops, like Jack Rudy, Tokyo Hiro, Spotlight Tattoo, Shamrock Social Club, and Under the Gun Tattoo Co., who will be on hand showcasing the best skills in the business.
Stay tuned to www.musink.org for additional news and updates.
General Admission Tickets: $25 single day ($30 day of show), $50 three-day ($60 day of show/sold on Friday only).
VIP Tickets: $75 single day ($80 day of show), $150 three-day (VIP tickets include in and out privileges, access to backstage and side stage VIP areas, discounted food, and free mixed drinks).
Musink 2014 Lineup:
March 21, 2014
The Descendents
Love Canal
March 22, 2014
Tech N9ne
Transplants
Rittz
March 23, 2014
Gorilla Biscuits
Judge
H2O
Strife
Featured tattoo artists: Jack Rudy, Nikko Hurtado, Gold Rush Tattoo, Robert Atkinson, Dan Smith, Matt Arriola, Baba, BJ Betts, Under The Gun Tattoo Co., Tokyo Hiro, Small Paul, Inkrat Tattoo, Eric Jones, Bob Tyrrell, London Reese, Shaun Topper, Vic Back, Charlie Roberts, Latisha Wood, Oliver Peck, Zero, Sid Stankovits, James Strickland, Alex Trufant, Pint, Grant Cobb, Spotlight Tattoo, Evan Skarededstu, Carlos Macedo, Kris Magnotti, Kyle Crowell, Greg Mayorga, Alexis Vaatete, Nspired 1, Shamrock Social Club, Rich Pineda, Chuey Quintanar, Franco Vescovi, and many more.
For More Information visit:
www.musink.org
instagram.com/musink_tatfest
twitter.com/Musink_TatFest
facebook.com/musink