Justin Martinez of The Tontons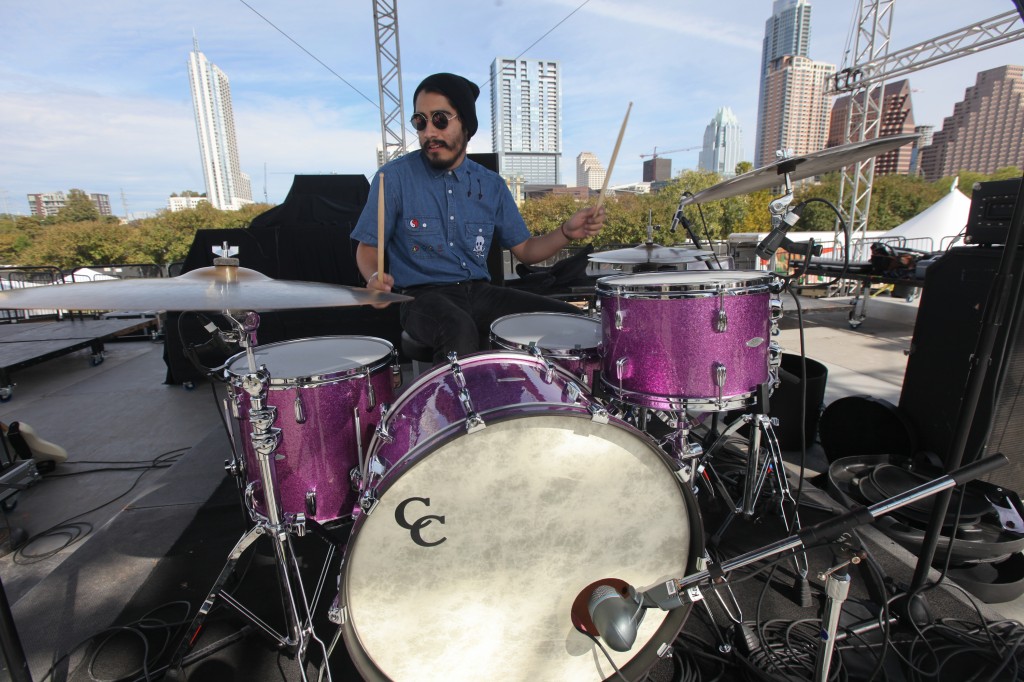 Hello, Modern Drummer readers! My name is Justin Martinez, and I am extremely honored to write a post for this site. Many of you have probably never heard of me before, and that's okay. I'm a twenty-two-year-old musician based out of Houston, Texas, and I'm currently the drummer for a band called the Tontons.
It honestly does not feel like it has been ten years since I received my first drumkit. When I was twelve, my dad found a guy wanting to sell a used six-piece in eggshell white. It was a Pearl Export series kit, and he jumped on the decision to buy it for me right away. For about half a year, I played on this kit without any cymbals, a snare, or a kick pedal. It was bare but still very, very fun to rock out on. Once I finally got some matching sticks, cymbals, hardware, and a snare, that changed everything. I would plug in an old CD player and play along for hours to my favorite songs at the time, and it felt amazing. I'm glad my parents and neighbors were able to put up with the sounds I was conjuring, as bad as they sounded at the time.
In 2007, I joined my brother's band that was just starting up, called the Tontons. Our first west coast tour, in Spring 2011, was in support of State Radio. It was an amazing experience and my first time outside of Texas. We have been touring consistently since then and working very hard to become a successful band. I'm proud that we are where we are right now as a band and as friends, and I hope to continue doing this for as long as I am able to. Advertisement
Recently, I received my first brand new drumset, which C&C (www.candccustomdrums.com) helped me customize. I decided to go up in diameter, so I will now be playing on a 14×24 kick drum, 9×14 rack tom, 15×16 floor tom, and a 6.5×14 snare. It's in a beautiful purple sparkle wrap, and it sounds amazing. For cymbals, I'm using a set of Paiste Giant Beats—24″ ride, 20″ crash, and 15″ hi-hats.
The Tontons have many things planned for the future. We will be releasing a new album, entitled Make Out King and Other Stories of Love, which we recorded in Austin at Churchhouse Studios (www.churchhousestudio.com). Dave Boyle (Black Joe Lewis, Okkervill River, Iron and Wine) produced and mixed the album for us. This will be our second full-length. Check out our latest music video below. (after the jump)
Keep up with Justin Martinez and the Tontons at www.thetontons.com.

Photo credit: Mark C. Austin