Ginger Baker to Release <em>A Drummer's Tale</em> and Photo Album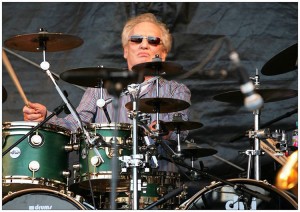 To mark his seventy-fifth birthday, Ginger Baker and his family have joined forces with PledgeMusic to create and release a career-spanning anthology on CD and vinyl, entitled A Drummer's Tale, and a very personal, limited-edition family album picture book.
By teaming up with PledgeMusic, the Baker family is able to offer, direct to the fans, a first listen and look at this collection of tracks, chosen by Baker, from all the different stages of his long and extraordinary career. 
In addition, Ginger and his daughter Nettie have compiled a very personal family album picture book of art, artwork, photos, and other images, many of them never seen before.
Baker is not only offering signed copies of A Drummer's Tale and the picture book, but his is also signing copies of some of the classic Cream albums, as well as his autobiography, Hellraiser, and the award-winning DVD documentary Beware of Mr. Baker. Advertisement
There will also be a very special A Drummer's Tale gig in the heart of London, to which Pledge's can get special VIP tickets. These VIP tickets will include a copy of the CD, picture book, and autobiography, as well as an invitation to a special pre-show picture exhibition. Drum clinics for fans that want to learn from Baker will be announced soon.
Pledging to buy items will go towards reaching the 100% target, and when the goal is met items will be manufactured and shipped. Everybody who pledges or pre-orders an item before the total reaches 100% will have their name included in the credits of the CD artwork and also in the credits in the picture book.
Says Ginger, "Stand by your beds everyone! It's been over thirty years since the RSO launched my last The Best of Ginger Baker anthology album without consulting me about the content. This time I'm in charge, with no label, and with the help and support of PledgeMusic the plan is to give you, the fans, something very exclusive. 
I know you'll enjoy it. Thanks for your support throughout the years and remember: Don't cheer, throw money!" Advertisement
For more information to watch Ginger perform a classic drum solo, visit http://www.pledgemusic.com/projects/gingerbaker.