VIDEO – <em>Modern Drummer</em> Rock 'n' Roll Fantasy Camp Trailer
The  first "Modern Drummer powered" Rock 'n' Roll Fantasy Camp, produced by David Fishof, took place this past November 8 through 10 at the MGM Grand Hotel in Las Vegas. Attendees got a rare chance to work directly with a group of counselors that included drumming greats Alan White (Yes), Denny Seiwell (Paul McCartney), and camp musical director Joe Vitale (CSNY), as well as Mark Farner (Grand Funk), Teddy Andreadis (Carole King, Guns n' Roses), Jeff Foskett (the Beach Boys), Frank DiMino (Angel), Jason Ebs (Peter Criss), Janea Chadwick Ebs (Ecotonic), and Scot Coogan (Ace Frehley). In addition, the famed L.A. rhythm section composed of drummer Russ Kunkel, bassist Leland Sklar, and guitarists Waddy Wachtel and Danny Kortchmar (James Taylor, Linda Ronstadt, Jackson Browne) shared their wisdom and performed. Also on hand were three of the most-recorded drummers in history: Jim Keltner, John "JR" Robinson, and Hal Blaine. Blaine conducted a Q&A session following a special screening of Denny Tedesco's yet-to-be-released documentary The Wrecking Crew, which tells the tale of the famous hit-making studio band that Hal helmed for years. And campers got an inside angle on today's mainstream rock scene during master classes by drummers Robin Diaz (Daughtry) and Rich Redmond (Jason Aldean).
Look for additional content from the "Modern Drummer powered" Rock 'n' Roll Fantasy Camp by subscribing to Modern Drummer's YouTube channel.
Subscribe to Modern Drummer's YouTube Channel here: http://bit.ly/17bt6zs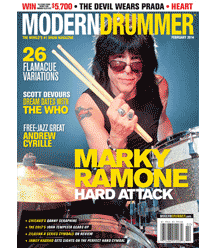 Be sure to pick up the February 2014 issue of Modern Drummer magazine featuring Marky Ramone.
---
Print: CLICK HERE
iOS/Newsstand/iTunes: CLICK HERE
Kindle Fire: CLICK HERE