Jason Aldean's Rich Redmond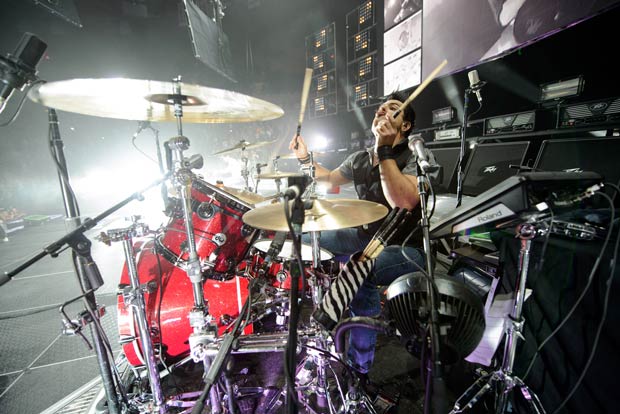 Hello MD readers! It has been some time since we last visited here. I am still enjoying life in Nashville, juggling touring, recording, producing, writing, and teaching. I love this life we live as modern drummers!
I have played drums and percussion on five Jason Aldean records, with the My Kinda Party and Night Train records producing eight number-one hits and spawning two sellout/top-grossing tours. Since we last talked, I have played over 200 shows, many of which took place in bucket-list venues like Madison Square Garden, Wrigley Field, Fenway Park, and the Hollywood Bowl. We even recorded a live concert DVD, entitled Jason Aldean: Night Train To Georgia, which was shot in front of 66,000 crazed fans at the University of Georgia's stadium. This was the first time a concert has ever been presented at the stadium. The DVD also features our performances with Kelly Clarkson and Ludacris and is available in stores and online.
I just recently recorded drums and percussion on eleven tracks for the sixth Aldean record, which will be released in 2014. While on tour, I also pulled double-duty several times by subbing for our opening acts Thompson Square and Thomas Rhett. Advertisement
There have been many TV appearances, including the Grammy Awards, The Voice, American Idol, CMA Awards, ACM Awards, Jimmy Kimmel, Jimmy Fallon, Conan, Leno, The Today Show, CMT Awards, CMT "Artist of The Year", New Year's Rockin' Eve, and Craig Ferguson. We also were happy to be asked to help the people of Boston with a performance at the Boston Strong concert, which featured Boston, Aerosmith, J. Geils Band, Carole King, James Taylor, Jimmy Buffet, Extreme, New Kids on the Block, Godsmack, and Dane Cook.
Here are some recent releases in the recording world on which I have playing and/or production credits: Masha's Stupid, Stupid Dreams EP produced by Nathan Chapman (Taylor Swift) and Claude Kelly; John Eddie's Same Old Brand New Me; Rachel Farley's "Midnight Road" and "High Heels" (drums and percussion) and "Ain't Easy" (percussion); Thomas Rhett's number-one single "It Goes Like This" and the new single "Get Me Some Of That"; Bush Hawg's new EP and the single "Crushin"; Adam Fears' "Golden Gravel Road"; Alabama and Friends' "Tennessee River"; Big Smo's Backwoods EP (drums, percussion, and programming); Dave Baker's "71 South"; and also a Merle Haggard tribute record with Jason Aldean and friends.
As a co-producer/drummer/percussionist, I worked with Thompson Square on the single "Are You Gonna Kiss Me or Not," which was a number-one hit and the most played song on country radio in 2011. Other singles of theirs include "Glass," "I Got You," "If I Didn't Have You," and "Everything I Shouldn't Be Thinkin' About." With Kristy Lee Cook, I worked on the singles "Airborne Ranger Infantry" and "Wherever Love Goes" (with Randy Houser), as well as Amy Dalley's Coming Out of the Pain. Two Parmalee singles were released ("Musta Had a Good Time" and "Carolina"), and the full record will be released on December 10, 2013. Advertisement
With a personal goal of doing more work in Los Angeles, I recorded several tracks for edgy pop artist Aika's record No Mo Games, and I worked with rock artist Reagan Browne with producer Nicolas Farmakalidis in Sherman Oaks, CA.
My production company New Voice Entertainment is excited to be heading into the studio immediately to track a new record for Red Bow recording artist David Fanning at House of Blues Studios in Nashville.
In the education world, I have been working tirelessly to bring my motivational drum event, called "Crash Course For Success," to drum shops, music stores, colleges, high schools, and corporate events. Advertisement
Between 2012 and 2013, I presented fifty-six events, including those at Musician's Institute in Hollywood, Los Angeles Music Academy, Drummer's Collective in NYC, Percussive Arts Society International Convention, and a fifteen-date Drum Workshop–sponsored tour of Guitar Centers. I was honored to be asked to present at the 2012 and 2013 Rock 'n' Roll Fantasy Camp, and I look forward to being a counselor at the upcoming Rock 'n' Roll Fantasy Camp "Goes Country" event in 2014 in Las Vegas.
I also launched my first annual educational camp called "Rich Redmond's Crash Course For Success—Drummer's Weekend" this past November 1 through 3. The weekend of education, inspiration, and entertainment featured twenty-four hours of hands-on training with me and guest clinicians Troy Luccketta (Tesla) and Jim Riley (Rascal Flatts). A guest studio drummer panel featuring Nick Buda (Taylor Swift), Ken Coomer (ex-Wilco), Tony Morra (Downtown Batterie), and Tommy Harden (Reba), interacted with the students and answered questions, and Jim Handley did a class on tuning. Producer Michael Knox (Jason Aldean, Rachel Farley, Bush Hawg) made himself available for a powerful Q&A session that focused on the creative process and what producers are looking for in drummers.
Nashville's Three Kings rhythm section (Jason Aldean, Thompson Square) also discussed concepts related to performing in a rhythm section and building a career. Students sat in with an all-star rhythm section featuring bassist Pete Iannacone (Josh Stone) and guitarist John Foster (the Consolers). My teaching focused on the Crash Course philosophy for success in the music business as well as subjects like the Nashville number system, song charting, overdubbing percussion, creating click tracks, getting and keeping gigs, "money beats," and mental/business techniques to create the career of your dreams. Advertisement
Students were treated to daily-catered meals and evening hangs with the clinicians. Also, plenty of door prizes and giveaways were provided by DW, Sabian, Promark, Remo, Roland, Kickport, Gon Bops, Audio-Technica, Cympad, Gator, Pitch Slap, Booty Shakers, Black Widow, Hansenfütz, Prologix, Drumtacs, Carmichael Throne, Auralex, Adam Argullin, Direct Sound Extreme Isolation, Ear Filters, Kelly Shu, Great Leather, Red Monkey, and others.
Students performed music with recording artists John Eddie and Adam Fears at a closing ceremony concert at the famed Douglas Corner Café in Nashville. All proceeds collected from the closing night ceremony benefited the W.O. Smith School of Music in Nashville.
I was thrilled to be a featured drummer at Donn Bennett's Woodstick 2013 in Seattle alongside drummers Kenny Aronoff, Todd Sucherman, Russ Miller, Alan White, JP Bouvet, Mike Johnston, Michael Derosier, Jeff Kathan, and Jon Bolton. We raised over $14,000 to put musical instruments in local schools. Advertisement
As a songwriter with Magic Mustang Publishing (BMI), I have had the good fortune of writing and recording with great songwriters and artists like Colt Ford, Jeremy Popoff, Adam Fears, Erik Halbig, Elisha Hoffman, Rebecca Lynn Howard, Jake Meds, Kaven Kadish, James Slater, David Fanning, Bridgette Tatum, Emily West, Jon Nite, John Edwards, Michael Dulaney, John Eddie, Skip Black, Matt Nolen, Paul Gordon, Kyle Jacobs, Chuck Jones, Phil Barton, Mallary Hope, Sherrie Austin, Fred LeBlanc, Galen Griffin, Jeremy Bussey, 1,000 Horses, Ben Caver, Corey Crowder, and Justin Wilson.
As an author, I am beyond excited to announce that my book, Fundamentals of Drumming for Kids, which I co-wrote with Michael Aubrecht, will be published by Modern Drummer Publications in association with Hal Leonard. The book will also feature multimedia content I shot in one day at Drum Channel in Oxnard, CA, and it is slated for release in 2014.
I hope to see you on tour or at a clinic. If you are interested in hosting a clinic or receiving lessons/career counseling via Skype, please contact me at booking@richredmond.com.
For more on Rich Redmond, visit www.richredmond.com, www.crashcourseforsuccess.com, www.youtube.com/richredmond, @richredmond, and facebook.com/richredmond.
Photo by Chris Owyoung