Mike Kelly of the Mission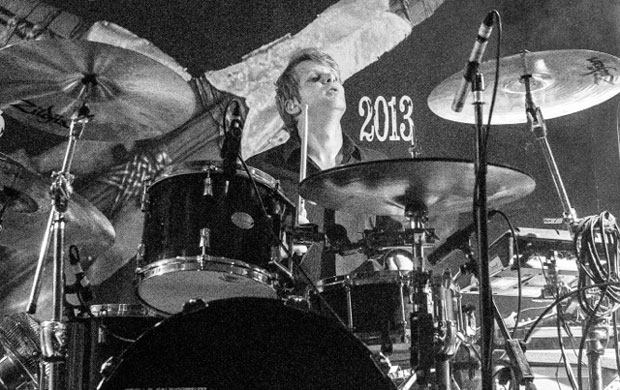 Hey, MD readers, my name is Mike Kelly, and I play drums with the Mission. I never expected to earn a spot performing with the band; I was in my studio in Brighton, working away, playing on and producing a record, and was asked to do a video audition, as they were going to reform for their twenty-fifth anniversary.
I gaffered my iPhone to a cymbal stand and hashed through a few songs, sent the video to Brazil and America, and forgot all about it. Weeks later I got a call from management to talk about me doing the shows. The tour was great fun, so much so that the guys wanted to do more, and now we have a new album out, The Brightest Light, available via The End Records.
Recording the album with Wayne [Hussey, vocals], Craig [Adams, bass], and Simon [Hinkler, guitar] was great fun, and we were filmed 24/7 for a documentary—which I'm not sure I want to see! Lots of stupid stuff, but loads of fun. We just returned from a U.S. tour, I got home to try and mix a few tracks, send stuff for mastering, and sort out my setup for the next set of shows with Spear of Destiny. Advertisement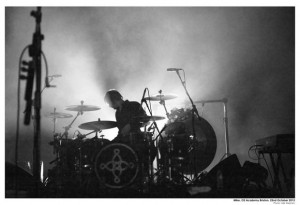 I stopped off at the national drum fair en route to see my friend at Nick Hopkin Drums and to help out at the Morgan Davies drum stand. Matt Davies' hand-made snare drums are second to none. He makes the shells from scratch and lovingly spends hours on each drum, and he has now moved into making kits. Great-sounding drums.
On tour and in rehearsals I use my Noble and Cooley CD Maple drumset, the Roland SPD-SX sampling pad, and some lovely Zildjian cymbals from Tina and the team. I use 20″ hi-hats on a 9000 cable system! K heavy on the bottom K trad on the top. You can get a clean chick sound out of them even though they are so heavy, and when you open them up they're devastating.
My drumming career began by hitting and tapping away on things from day one, pretty much. I did the classic spoon-and-saucepan drumming a lot, then learned other instruments until I was finally allowed get a drumkit when we moved to a farm house. One of the barns became my practice space. I used to drive my poor folks wild—I would play four, five, six hours a day. The lighting was powered from the main house and my dad would turn off the trip switch, plunging me into darkness, but I would carry on playing in the dark for hours, playing louder so I couldn't hear them banging the door to ask me to stop! Advertisement
I would play along to Bonham's grooves, Moonie, Mitchell, Stubblefield.… I grew up on Nirvana and Pearl Jam—there was a time when I would play Ten top to bottom, fills and all!
For more on Mike Kelly and the Mission, go to facebook.com/themissionuk, twitter.com/the_mission_uk or themissionuk.com.