Chico Hamilton: 1921–2013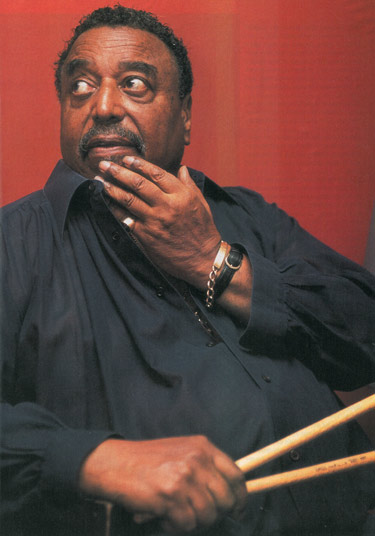 Jazz drummer Foreststorn "Chico" Hamilton died this past Monday at the age of ninety-two. Hamilton was notable for his refined approach to the drumset, which leaned more heavily on creative orchestrations than on flash, an approach that in the 1950s inspired the movements of cool and chamber jazz. Notably, Hamilton differed from most jazz drummers in his use of single-headed drums, a trend that later became the norm in rock drumming.
Hamilton's ensembles were a breading ground for talent, with Paul Horn, Eric Dolphy, Ron Carter, Gabor Szabo, Charles Lloyd, Larry Coryell, and Arthur Blythe among the top players who made their names with his group. A wide array of contemporary musicians credit Hamilton and his music as an influence, including Carlos Santana, Charlie Watts, and Thievery Corporation.
Hamilton was born on September 20, 1921, in Los Angeles, and had a fast-track musical education in a band with his high school classmates and future jazz legends Charles Mingus, Illinois Jacquet, Ernie Royal, Dexter Gordon, Buddy Collette, and Jack Kelso. Engagements with Lionel Hampton, Slim & Slam, T-Bone Walker, Lester Young, Count Basie, Duke Ellington, Charlie Barnett, Billy Eckstine, Nat King Cole, Sammy Davis Jr., Billie Holiday, Gerry Mulligan, and Lena Horne established him as a jazz drummer on the rise. Advertisement
In 1955 Hamilton began leading his own ensembles, subsequently recording more than sixty albums as a leader. His impact upon jazz included introducing two influential and distinct sounds into the jazz lexicon, first in 1955 with his Original Quintet, which included bassist Carson Smith, guitarist Jim Hall, cellist Fred Katz, and flute player Buddy Collette, and then in 1962 with bassist Albert Stinson, guitarist Gabor Szabo, trombonist George Bohanon, and tenor sax player Charles Lloyd.
Hamilton appeared in the 1941 film You'll Never Get Rich, staring Fred Astaire, and his ensemble was prominently featured in the 1957 film noir classic Sweet Smell of Success. Hamilton's mallet-driven performance of "Blue Sands" was a featured moment in the 1959 Newport Jazz Festival documentary Jazz On a Summer's Day, and he composed the soundtrack for Roman Polanski's English-language debut, the psychological thriller Repulsion. In 1965 Hamilton moved to New York City and formed a commercial and film music production company, scoring the television film Portrait of Willie Mays and the popular children's series Gerald McBoing-Boing. He also worked on Madison Avenue, scoring hundreds of commercials for TV and radio.
In the late 1980s Hamilton helped to found the New School University's Jazz and Contemporary Music Program, and his playing and recording activity picked up considerably, beginning in 1989 with his Euphoria ensemble, and continuing with string of more than ten recordings for the Joyous Shout! label. This past October he recorded The Inquiring Mind, which will be released in early 2014. Advertisement
Honors bestowed upon Hamilton during his career include receiving the Kennedy Center's Living Jazz Legend award and an NEA Jazz Master fellowship, and being appointed to the President's Council on the Arts.
Modern Drummer's Rick Mattingly interviewed Hamilton for the magazine's November 2001 issue, upon the release of his album Foreststorn. The title was Chico's own given first name, as well as that of his son, who died shortly before the album was completed. Here's an excerpt.
MD: The new album has a very youthful sound. Is music keeping you young?
Chico: It better! [laughs] Hey man, age is just a number. It's been a long time since I've done a groove record. And it's been a long time since I've heard a groove record. So the idea was to have some groovy lines on top of some dynamite rhythms and let 'em flow. Advertisement
MD: On some of the tunes, the groove sections are broken up by freer, impressionistic sections. That made me appreciate the groove even more.
Chico: One is no good without the other. It's like an artist who uses rough textures and smooth textures. So that was the idea I had in mind about everything we were doing.
MD: On the first tune, "Outrageous," I like the way you make the stick bounce across the ride cymbal to create that rhythm.
Chico: I originated that years ago, but I hadn't used that lick in a heck of a long time. It's very effective.
MD: It gives the tune momentum, but it's also very relaxed. It reminds me of the advice to "let the sticks do the work."
Chico: You hit the nail right on the head: letting the sticks do the work by controlling the bounce. Playing with that sort of bounce/finger technique enables you to sustain a little longer in regards to not having to use so much wrist movement.
MD: "That Boy With That Long Hair" has a bossa nova feel, and "Sweet Dreams" has a Latin groove. The name Chico implies a Latin heritage. Have you got some Latin blood?
Chico: Well…there's been rumors. [laughs] My given name is Foreststorn. Chico was easier to say. But there's some Mexican Indian heritage, among other things.
MD: I assume you heard a lot of Latin music growing up in Los Angeles. So do you feel an affinity for those types of rhythms?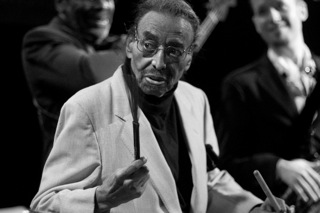 Chico: Yeah, I've been playing these kinds of grooves for quite a while. Even during the bebop period, I was still playing my kind of thing. I was always a little different from everybody else, and it wasn't easy being different. But it was totally impossible for me to play like Jo Jones, Sid Catlett, Sonny Greer, Max Roach, Art Blakey, and people like that. So I had to build my own way of playing.
MD: Who inspired you to be a drummer?
Chico: When I was around eight years old, my mother took me to see Duke Ellington. The band was set up on a pyramid, and Sonny Greer was at the top with all those drums. The musicians wore white tails and the drums were white pearl. It was a beautiful sight! So that was my first impression, and I figured this is what I would like to do. I studied for a while with Lee Young, who was Prez's [Lester Young] brother. And I got a considerable amount of help from Jo Jones. But other than that, I did everything on my own. Advertisement
Before I went in the army, I couldn't read. I just played by ear. I had some unbelievable chops as far as hearing. When I was in the service, I was in a camp in Alabama with a drummer named Billy Exner, who used to play with Claude Thornhill. He taught me how to read drum music. After that, I was pretty cool. When I joined the Basie band, Jimmy Mundy brought in some new arrangements, and he wrote drum parts that had all the hits and everything. I was able to read them.
MD: You do a lot of nice brush playing on your new album.
Chico: Thanks, man. When I was about fourteen or fifteen, playing with a band, the leader made me use brushes. Every time I'd go to pick up the sticks he'd say, "Put them sticks down, boy. Let me hear those brushes." It really paid off, because I spent about fifteen years playing for singers, and brushwork was the name of the game—being able to lay down a groove and stay quiet enough underneath them.
Playing for singers, you learn to accompany, which enhances your ability to play behind a horn because you develop a sense of listening and timing. If a horn player does a strange kind of phrase, you're right on it. Advertisement
MD: The tune "Here Comes Charlie Now" features Rolling Stones drummer Charlie Watts. How did you hook up with him?
Chico: My manager saw an interview where Charlie said that when he was a kid, I inspired him to play when he heard me with the Gerry Mulligan quartet playing "Walkin' Shoes" with brushes. He said he used to call himself Chico Watts. I met him in New York at Birdland when he came over with his jazz group. He couldn't get over the fact that I came to see him. We became friends, and one thing led to another. Hopefully, in the future, his group and my group may tour together.
MD: Are the two of you trading those solo drum breaks?
Chico: I'm just keeping time behind the melody. The solos are all his. It came out beautifully.
MD: You are good at bringing out the different colors of the drumset, such as on the track "11 Bars For Arthur" with saxophonist Arthur Blythe, which you play entirely with cymbal rolls. It's like an orchestrational approach.
Chico: I'm into sounds. I like to paint pictures. I never had fast chops. I could never do [sings machine-gun single strokes]. I never had any desire to go that route. But I can play a fast tempo as well as anyone as far as keeping time is concerned. Advertisement
MD: Are you still using single-headed tom-toms?
Chico: Oh, yeah. I started that during the war. It was hard to get calf heads, so if I would go through a batter head, I'd replace it with the head from the bottom. I got so used to hearing the sound that way that when Gretsch started making my drums for me, that's what they made.
MD: That became a popular kit with rock drummers in the 1960s.
Chico: Maybe someday somebody will give me credit for it. [laughs]
MD: What are some of your favorite memories from your long career?
Chico: That's a difficult question for me to answer because I seldom look back. Life is one moment to the next, so rather than looking back at what I did in the past, I'd rather look forward to the next time I can play.
Black and white photo by Glen DiCrocco, color photo by Paul La Raia.
The monthly concert series Euphoria Presents: Celebrating the Life and Music of Foreststorn "Chico" Hamilton continues on December 15 at Drom in New York City. Go to dromnyc.com for more information.
Advertisement