Presentation on the Evolution of Cuban Music and the Development of Afro-Cuban Jazz
Presentation
Evolution Of Cuban Music
and the Development of Afro-Cuban Jazz
&
Concert by the Ignacio Berroa Trio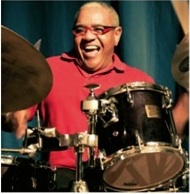 Noted jazz drumming legend Ignacio Berroa, who performed with Dizzy Gillespie for ten years, will take the audience on a fascinating journey that begins with the arrival of Africans to Cuba. His audio-visual presentation follows traditional Cuban music through its African and European influences as well as the integration of Afro-Cuban rhythms to jazz and the jazz influence on Cuban and Afro-Cuban music.
Saturday, November 16, 2013
8:00 to 10:30 P.M.
Admission: $15.00 in advance; $20 at the door; $5.00 for seniors and children under 12.
For advanced sales call: (973) 736-3113.
New Jersey School of Percussion, 14 Northfield Ave., West Orange, NJ 07052.