Darren Lyons of the Darren Lyons Group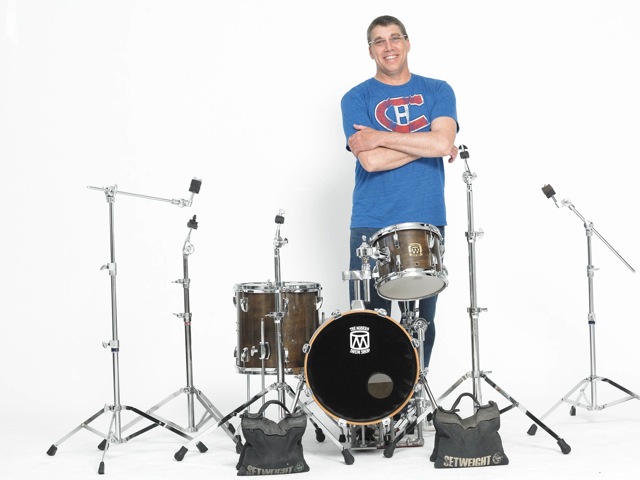 Hello fellow drummers. My name is Darren Lyons. I am a New York City–based drummer that has led an electric and acoustic jazz ensemble for the past fifteen years, called the Darren Lyons Group, which is a four-piece (guitar, bass, keys, drums) with an occasional second keyboardist, Adam Holzman (Miles Davis, Steve Wilson).
In 2012 and 2013, DLG shared bills with the Brecker Brothers, Mark Egan, Mike Stern, Anthony Jackson, and more. DLG has an upcoming show on Friday, October 4, after Herbie Hancock, at the Capital Theater in Porchester, NY. The show will be recorded with our mobile unit. We have been recording the past fifteen months of our live shows locally for a new CD. Our promotional trailer can be seen on my website. DLG's latest CD is called Evil Genius and was produced by David Sancious. Manolo Badrena (Weather Report, Ahmad Jamal) appears on four tracks.
I also have a trio CD, called Three Trio's, which is a blend of acoustic jazz from the '30s through '60s. WBGO has added it to their library. I can't forget the first time I heard it on the radio. I was driving! I literally had to get off the west side highway to stop and listen to the song "Mamacita." DLG and DLT have separate Pandora channels, as well as YouTube channels. Advertisement
I'd like to share a quote from WBGO's radio DJ Rob Crocker: "I have to say my favorite is your take on 'Every Time We Say Goodbye.' I've never heard it like that before and dug it. Your groove on 'Boplicity' makes it an ideal first song for this CD. I also love the range of the song-list, from the 1940s thru the 1960s, from 'Raincheck' to 'Night Dreamer.' Never thought a trio could swing 'Mamacita' the way you guys do."
For more on Darren, visit www.darrenlyons.com.