The Collective School of Music Presents: John Favicchia Clinic Thursday, September 26, 2013 at 7 PM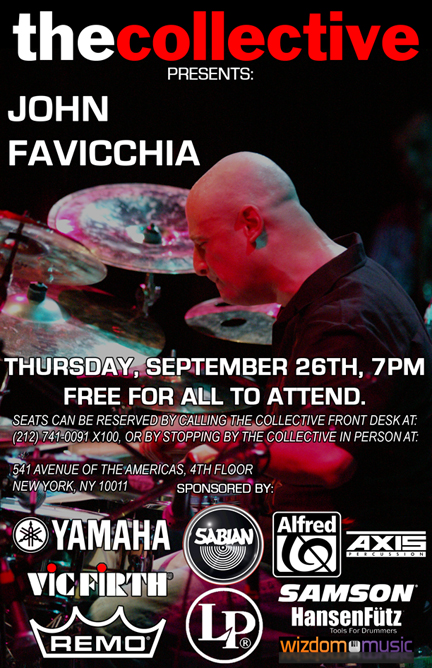 Drummer John Favicchia has performed and/or recorded with Steve Khan, Eddie Money, Tony Levin, Chieli Minucci, Charlie Daniels, Lonnie Plaxico, Robbers, John Benitez, Gary US Bonds, Harvie S, Larry Coryell, Dean Brown, Rachel Z, Joe Butler, the Tokens, Felix Cavaliere, Kerry Kearney, Chris Geith, Laco Deczi, Long Island Music Hall of Fame Band, Mike Pope, Steve Adelson, Bob Malach, and more. For more on John, visit johnfavicchia.com.
Clinics will take place at the Collective School of Music, which is located at 541 Avenue of the Americas, 4th floor, New York, NY. Seating will be limited and must be reserved in advance by calling the Collective front desk at 212-741-0091 x100.
For more information, visit TheCollective.edu.