Chris Infusino of the Vim Dicta
Hello MD readers! Chris Infusino of the Vim Dicta here. I just wanted to let you know what's happening on my end.
I just signed with the up-and-coming psych rock band, the Vim Dicta, and couldn't be more excited about it. I moved to LA, after a three-year stint in New York City, and left the "hired gun" world for the "band guy" world.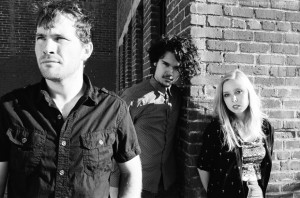 It's been an amazing ride thus far, and it keeps getting more unbelievable. The Vim Dicta (Cori Elliott, Matt Tunney, and myself) finished recording our new EP at the legendary Capitol Records Studios in Hollywood along with the video Stallion posted below. It was shot and recorded entirely live in Studio A as an alternative take to the EP track. We expect to have the EP out this October through our own imprint.
This experience was what I like to call a "life moment." It's amazing, and I couldn't be more grateful to our wonderful management and production team. Our manager, Dan Nash, who has worked in the studio with people like Stevie Nicks and Lou Reed, has been invaluable in helping us achieve our vision with the new recording, along with engineers Niko Bolas (Neil Young, Fiona Apple) and Shelly Yakus (John Lennon, U2). They've been close friends and colleagues for years and are putting amazing care into the production of this EP. I still have to slap myself to believe it's real! Advertisement
With TVD, I'm kicking my dream rig: 12″, 15″, 18″, and 22″ Gretsch USA drums; Paiste 18″ prototype hi-hats; 2002 crashes, ride, and cup chimes; Dunnett snares; Aquarian heads; Regal Tip sticks; Cympad washers; and Earthworks mics. All of my gear is protected in Beato bags and SKB cases.
We will be playing all over LA and the OC this fall, and you can check out when and where by following us on Facebook. We're also going back into the studio before the end of the year. Keep your eyes peeled and ears to the ground—you'll feel our thumping and hear our thunder rolling towards you as we continue to bring the #psychogroove!
Watch the video for "Stallion" below:

For more on the Vim Dicta, visit www.facebook.com/thevimdicta.