Ginger Wildheart of Hey! Hello!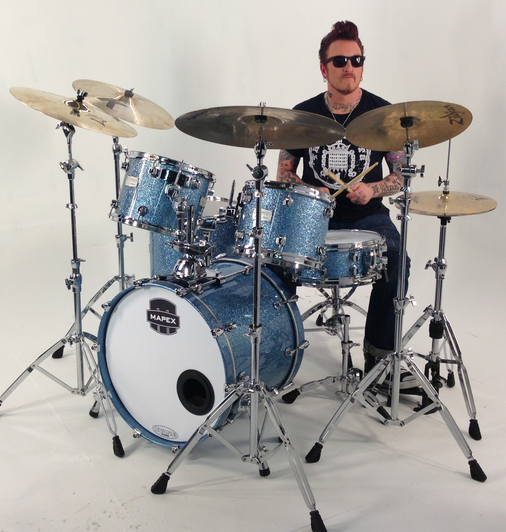 Since annoying the hell out of my mother with relentless table tapping and leg playing from the age of five, I've always been a frustrated drummer. It would be thirty years later that I would make my recording debut on an actual kit, playing drums on "Falling in Bed With You Again" from Clam Abuse—Stop Thinking, an album project I hastily put together to stave off threats of knee-cap violence by the owners of a gym in LA whom I owed money to—But that's another story.
I always understood drums, and because of this I surrounded myself with the best players, drummers who could fully realize the patterns I had in mind for my songs. And from being driven by some of the best backbeats in the business, my confidence as an actual drummer shrank in direct proportion to my growing abilities as a rhythm arranger.
Still, never once losing the passion for drums, the dream of finally playing on an entire album came true in 2012, when I sagely convinced myself to play all the instruments for an ambitious new project, Hey! Hello!, a band/album also featuring the vocal talents of Miss Victoria Liedtke. The band was named by my four-year-old son, Taylor, whose customized mini drumkit, built by Humm Drums, I used to practice on. Advertisement
Practicing the album was a process that I took an uncharacteristically serious approach towards. Beginning with demo recording (something I very seldom bother with), which I performed on an electronic drumkit, I took the guitar and vocal stems and rehearsed on my son's scaled-down drumset in the garage. Once I had the basic rhythms and fills implanted into my eager brain, I booked both a gym and a rehearsal space so I could develop the stamina to physically carry out my arranged parts.
I was the king of the backing track, bashing away until my hands exploded in a pyrotechnical display of blister juice, and my wrists buckled under brand-new aches uncommon to an axe slinger. I love it more than singing, and I loved it more than playing guitar.
Arriving at Parlour Studios in Northampton, producer Russ Russel (Napalm Death) introduced me to the shining monolith that was to be my recording kit. Sitting behind it felt like the first time I drove my father's car. I spiritedly set up the snare to my chosen height, the rack toms to the angle that best suited my giraffe-length arms, and settled into a position where the hi-hat/drum-stool interface made most sense to this full-album-drum-track virgin. Advertisement
The initially skeptical Mr. Russel soon thawed, unplugging Beat Detective as he realized that each rhythm, fill, and groove had been fully rehearsed. He finally relaxed in the knowledge that I would be capable of providing an authentic and impassioned, if rudimentary performance. But not me—I knew all along that I was going to ace this. I've been a drummer since the age of five.
See the new Hey! Hello! "Swimwear" video: www.youtube.com/watch?v=p2Sf4ryFP7w

 For more, visit facebook.com/heyhellomusic, twitter.com/heyhellomusic, gingerwildheart.net, and twitter.com/gingerwildheart.