Slayer Welcomes Back Paul Bostaph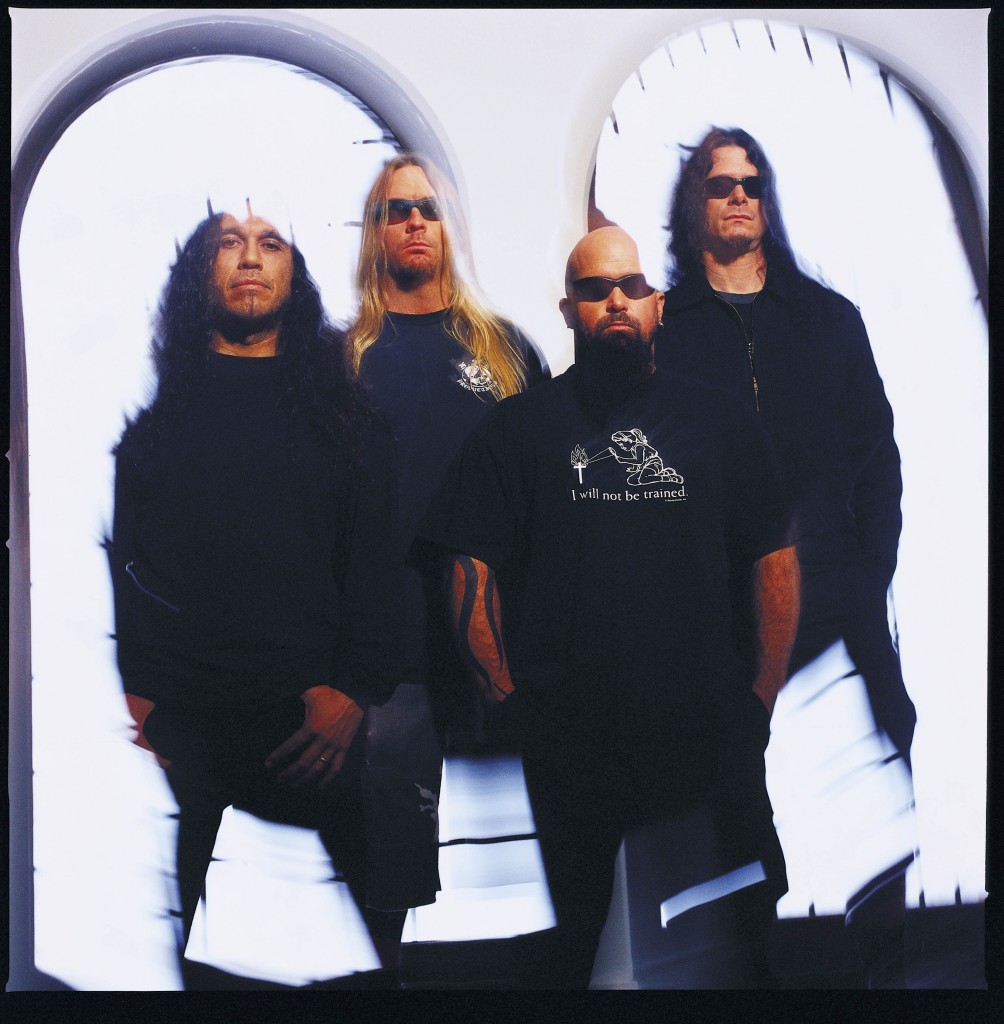 Slayer's Tom Araya and Kerry King are pleased to announce that Paul Bostaph has rejoined the band on a full-time basis. Bostaph will be behind the drumkit beginning June 4, when Slayer kicks off the first leg of its 2013 international tour in Warsaw, Poland. Gary Holt will continue to fill in for recently deceased guitarist Jeff Hanneman.
Slayer's 2013 itinerary will have the band playing thirty-five dates that will include headline shows as well as a number of major summer festivals in Europe, Eastern Europe, and South America between June and October.
"Paul's a great drummer and a good friend, and we're very happy that he's decided to rejoin the band," said Tom Araya. "We're still pretty numb from the loss of Jeff, but we don't want to disappoint our European and South American fans, and we need to begin moving forward. Having Paul back in the band makes that a whole lot easier." Advertisement
"I'm very excited to be rejoining Slayer," added Bostaph. "We spent a very intense ten years of our lives together, had a lot of fun, made a lot of great music, so for me, this feels like coming home.
Bostaph was Slayer's drummer from 1992 until 2001 and recorded four albums with the band—the Gold-certified Divine Intervention (1994), the 1996 punk covers album Undisputed Attitude, Diabolus in Musica (1998), God Hates Us All (2001), which received a Grammy nomination for Best Metal Performance, as well as the gold-certified DVD War at the Warfield (2001). In addition to Slayer, Bostaph has been a member of Forbidden, Exodus, Systematic, and Testament.
Slayer's 2013 International Touring Schedule
June
4                Impact Festival 2013, Warsaw, Poland
6                Muziek Theatre, Enschede, Holland
7                Rodahal, Kerkrade, Holland
8                Sonisphere France, Amneville, France
10, 11        The Academy, Dublin, Ireland
12              Limelight, Belfast, Ireland
14              Greenfield Festival, Interlaken, Switzerland
15              Geox Theatre, Padova, Italy
17              Antlantico, Rome, Italy
18              Obihall, Florence, Italy
19              Alcatraz, Milan, Italy
21              Metalfest Germany, St. Goarshausen, Germany
22              See-Rock Festival 2013, Graz, Austria
23              Culture Factory/Tvornica Kulture, Zagreb, Croatia
25              Kombank Arena, Belgrade, Serbiz
26              Hegyalja Festival, Tokaj, Hungary
27              With Full Force, Leipzig, Germany
29              Hi Voltage, Istanbul, Turkey Advertisement
July
1                Heavy By The Sea, Athens, Greece
August
2                Resurrection Festival, Viviero, Spain
6                Vega Main Hall, Copenhagen, Denmark
7                Grona Lund Tivoli Outdoor, Stockholm, Sweden
9                Jalomethallifestival 2013, Oulu, Finland
10              Oya Festival, Oslo, Norway
11              Bloodstock Open Air 2013, Derby, UK
15              Pukkelpop Festival, Kiweit Hasselt, Belgium
16              Low Lands Festival, Biddinghuizen, Holland
17              Elb-Riot Open Air Festival, Hamburg, Germany
18              X Rockfest, Herford, Germany
September
17              Foro Sol, Mexico City, Mexico
20              Jockey Club, Sao Paulo, Brazil
22              Rock In Rio 2013, Rio De Janeiro, Brazil
24              Pedreira Paulo Leminski, Curitiba, Brazil
27              River Plate Stadium, Buenos Aires, Argentina
29              Jockey Club, Asuncion, Paraguay
October
2                Estadio Nacional, Santiago, Chile
For more info, visit the Official Slayer Website, Slayer Facebook, and Slayer Twitter.