<em>MD</em> Columnist John Emrich Assists Peter Erskine With Multimedia Performance for KIN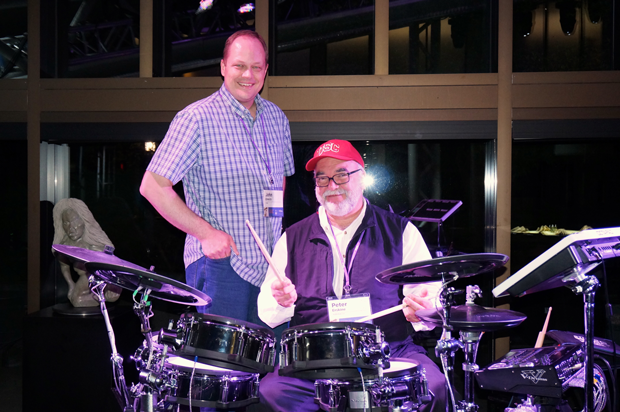 The Kellogg Innovative Network's "Etudes for Innovation, Opus 5" event, which took place May 29, 2013 at Northwestern University in Evanston, Illinois, featured Peter Erskine with the Chicago Jazz Orchestra, led by Bob Mintzer. The show's producer, Jeffrey Ernstoff, wanted to have Erskine perform a duet with Bob Mintzer on electronic drums and EWI. In addition to the audio, the goal was to control all of the visual elements at the performance site, including lighting and video. Erskine asked that they bring in technology expert, and MD columnist, John Emrich to sort out the programming details for the performance. This meant getting the electronic instruments to "talk" to the show's digital lighting controller.
The full setup included a TD-30 module triggering sounds from BFD2 using Peter's "Virtually Erskine" sample library on a MacBook Pro laptop. Using a free program called MIDI Pipe, Emrich was able to take a physical MIDI input attached, via MIDI/USB device, and split it inside the computer. The "rst split went into BFD2. The second split was modified to increase the overall note length of each drum and cymbal hit and then sent to a physical MIDI output. The note length was important because if a MIDI event happened too fast, the lighting controller might not recognize it.
MIDI cables are limited to fifty-foot runs. After that distance, the signal can cause problems. Emrich's computer rig was set up next to the drum riser, but it was necessary to get the signal to the front-of-house control area. So once all of the MIDI information was put together, a MIDI Extender 1001 system was used to convert the MIDI to standard CAT5 data transmission cable. The MIDI extender allows for cable runs up to 1,000 feet with zero delay from the V-Drums kit to the house sound system. Advertisement
The end result was not only a great musical performance, but also a stunning visual display that Peter was able to control and interact with live in real time.