August 2013 Issue of <em>Modern Drummer</em> Featuring Zigaboo Modeliste
(on newsstands July 2, 2013)
On the Cover
Zigaboo Modeliste
MD listens long and hard as the original Meters drummer describes his lifelong love affair with the drums and his highly personal approach to timeless rhythms.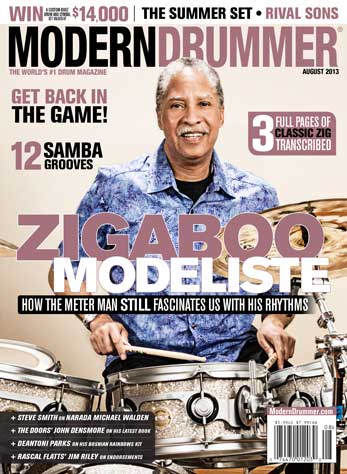 FEATURING
UPDATE
• Joe Rickard of Red
• Folk and rock legend Dave Mattacks
Steve Smith on Narada Michael Walden
The MD Pro Panelist and Vital Information leader explores the many drumming wonders of Mahavishnu Orchestra's Visions of the Emerald Beyond.
Get the Best
Featuring Mahavishnu Orchestra, Return to Forever, and Weather Report.
Michael Miley
Rival Sons' drummer is an expert at balancing inspiration and innovation. "I try to get inside the song," he says, "and let my influences take over."
Passion and Perseverance
A special MD profile of four drummers who got back in the game.
Up & Coming – The Summer Set's Jess Bowen
Most of us had to convince our parents that we wanted drums. In her house, it was practically demanded of her to play.
What Do You Know About…? Connie Kay
Was he an utterly genteel swinger—or the quintessential gritty rock 'n' roller? As it turns out, he was both.
EDUCATION
Zig's Signature Beats
Strictly Technique
Triplet Gear-Shifter 12-18-24 Exercise, Part 2
Concepts
The Endorsement Game Understanding Product Promotion
Strictly Technique
Playing the Sixes Part 1: Volume and Accent Character
Rock 'n' Jazz Clinic
Samba Coordination Builder 12 Independence Exercises Based on Chick Corea's "Sicily"
Rock Perspectives
Double Bass Workout Part 1: 16th-Note, Sextuplet, and 32nd-Note Fills
Jazz Drummer's Workshop
Stick Control Revisited Drumset Applications
Health & Science
Drum Athletes Part 5: Dynamic and Static Stretches
EQUIPMENT
PRODUCT CLOSE-UP
• Yamaha Live Custom Drumset
• Meinl Byzance Extra Dry Thin Ride and RAPC Bongos
• Taye Specialty Walnut/Mahogany Hybrid and MetalWorks Vintage Brass Snares
• TRX DRK Thunder and BRT Lightning Cymbals
• Warlock Maple Blue Glitter Glass Drumset
GEARING UP
Bosnian Rainbows' Deantoni Parks
Collector's Corner
Camco 3.5×14 Jazz Series Snare by Harry Cangany
New and Notable
DEPARTMENTS
AN EDITOR'S OVERVIEW
Get Back to Where You Once Belonged by Adam Budofsky
Readers' Platform
Ask a Pro Jeff Bowders, Liberty DeVitto, Rod Morgenstein
It's Questionable
• Technology Corner: Hi-Hat Bleed
Showcase Featuring Drum Market
Critique Taking the Reins
Backbeats
• John Densmore's Book The Doors Unhinged
In Memoriam Robert Zildjian
Kit of the Month Cry Freedom
and more!